Art in Print
Turner Prize abolishes age limit and embraces the Not So Young British Artists
Featuring Tracey Emin's unmade bed and Damien Hirst's pickled cow, the Turner Prize was once the preserve of the Young British Artists.
Following a rule change, Britain's most famous art prize could now be won by a Very Old British Artist. The upper age limit of the prize, which was set at 50, has been abolished.
"We have always kept these terms under review and we are confident that now is the right moment to make the change," said Alex Farquharson, director of Tate Britain and chairman of the Turner Prize jury. "Now that the prize reputation is so firmly established, we want to acknowledge the fact that artists can experience a breakthrough in their work at any age."
In theory, the YBAs could make a Turner Prize comeback: Tracey Emin (who never won the prize, but hogged all the headlines in 1999) is 53, while 1995 winner Damien Hirst is 51. Rachel Whiteread, who won in 1993, is 53.
However, the committee said the prize was very unlikely to go to an established artist as it is known for celebrating and promoting emerging talent.
Via: The Telegraph
Into the Heart of Lightness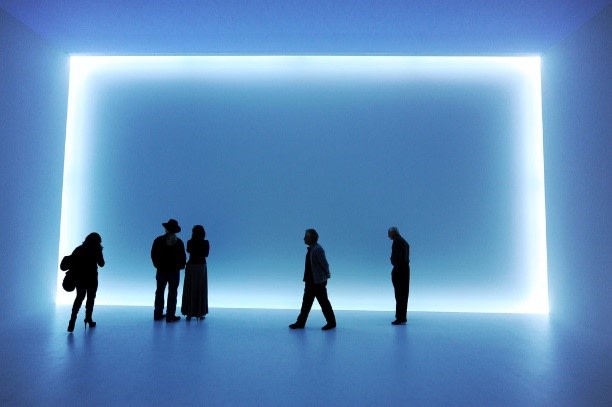 Artist Doug Wheeler recreates the quiet of the desert in the exhibition PSAD Synthetic Desert III, whichruns until August 2 at the Solomon R. Guggenheim Museum in New York.
In a career of more than four decades he has never had a full-time American gallery represent him except for a brief, troubled turn with the Los Angeles dealer Doug Chrismas. He even turned down Leo Castelli, at the time the most powerful dealer in the country, because he felt that Castelli wanted to push him to crank out versions of older works, from which "I'd already learned everything I wanted to learn."
The effect of this deeply principled approach has been that his work has been seen mostly on the West Coast and in Europe, where the late Milanese collector Giuseppe Panza di Biumo, and his wife, Giovanna, were enthusiastic supporters. Through the Panza collection, Wheeler pieces are now in the collections of the Guggenheim Museum in New York and the Hirshhorn in Washington.
For several years in the mid-1970s Mr. Wheeler grew so frustrated with the art world that he took up screenwriting to support himself, so he could keep making his art his way.
By the '80s he had left Los Angeles for Santa Fe, N.M., where he still works. When David Zwirner — whose gallery has dug deeply in recent years into the works of Minimalist and '60s and '70s West Coast artists — included a Wheeler piece in a show several years ago, Mr. Zwirner said, he considered Mr. Wheeler a "kind of mythical figure."
More than any other Light and Space artist Mr. Wheeler focuses on creating a sense of absence — to enable people to perceive space and light in ways they normally cannot — a primary obsession. And his explorations of it were deeply influential in the formation of the movement of Los Angeles artists who began to work with light.
The curator Germano Celant, who included Wheeler in an influential exhibition of environment-based art at the 1976 Venice Biennale, said in an interview that he considered the immersive installations that Wheeler began to gravitate toward to be radical. "He was avoiding representation of any kind," said Mr. Celant, who is helping to compile a monograph for the Zwirner show. "There was nothing to see — only light. I think it was a big shift.
David Zwirner said that he hopes to represent Wheeler permanently, but that he will not allow himself any firm expectation of doing so until the show is over and the artist is happy. "I'm treading very lightly," he said. "I guess I'm always waiting for the other shoe to drop."
Via: The New York Times International Edition
Attention! Forward march to a light-filled museum of army life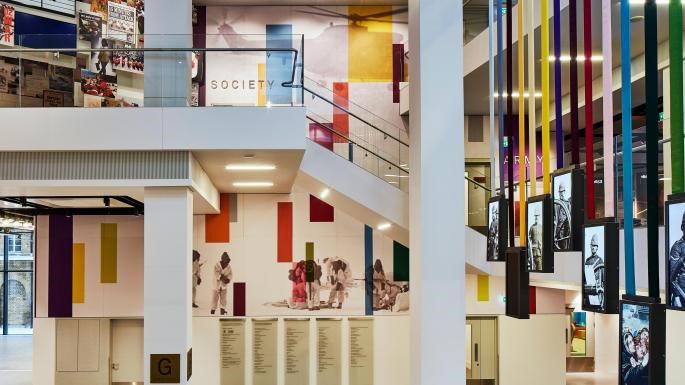 A £23 million redevelopment has transformed the once stuffy National Army Museum into a bright, modern space that reconnects us with soldiers' lives.
The relationship between Britain and its army is ancient and very odd. Few countries have been more shaped by the army, but few countries are less aware of that impact.
The army evokes ambivalent feelings: celebrated for its courage and past victories, mourned in death and sacrifice, but frequently ignored, misunderstood and at times disdained. At the height of the wars in Iraq and Afghanistan, serving soldiers were advised not to wear uniform on the streets of Britain, lest they attract adverse comments, or worse.
Bridging the gap between the British Army and British society is the quite tricky task of the London National Army Museum, in Chelsea reopening today after a three-year redevelopment.
The old museum was a frumpy and slightly pompous place, with glass cases of old guns, bullet-riddled flags and portraits of fierce generals. The new version is light and spacious, 2,500 objects in five permanent galleries arranged by theme, as well as a large space for changing exhibitions, a study centre, café, shop and play area.
As visitors leave the museum, they are asked "Could you be a soldier?" and invited to pass through the "Yes" or "No" turnstiles. The responses will be shown on screens at the exit.
Today we are less interested in tactics, generals and victories, and more concerned with what soldiering might feel like. Modern museums, like history itself, work best when they ask the single, unanswerable question: what would you have done?
Via: The Times