Jules Pascin
Art on This Day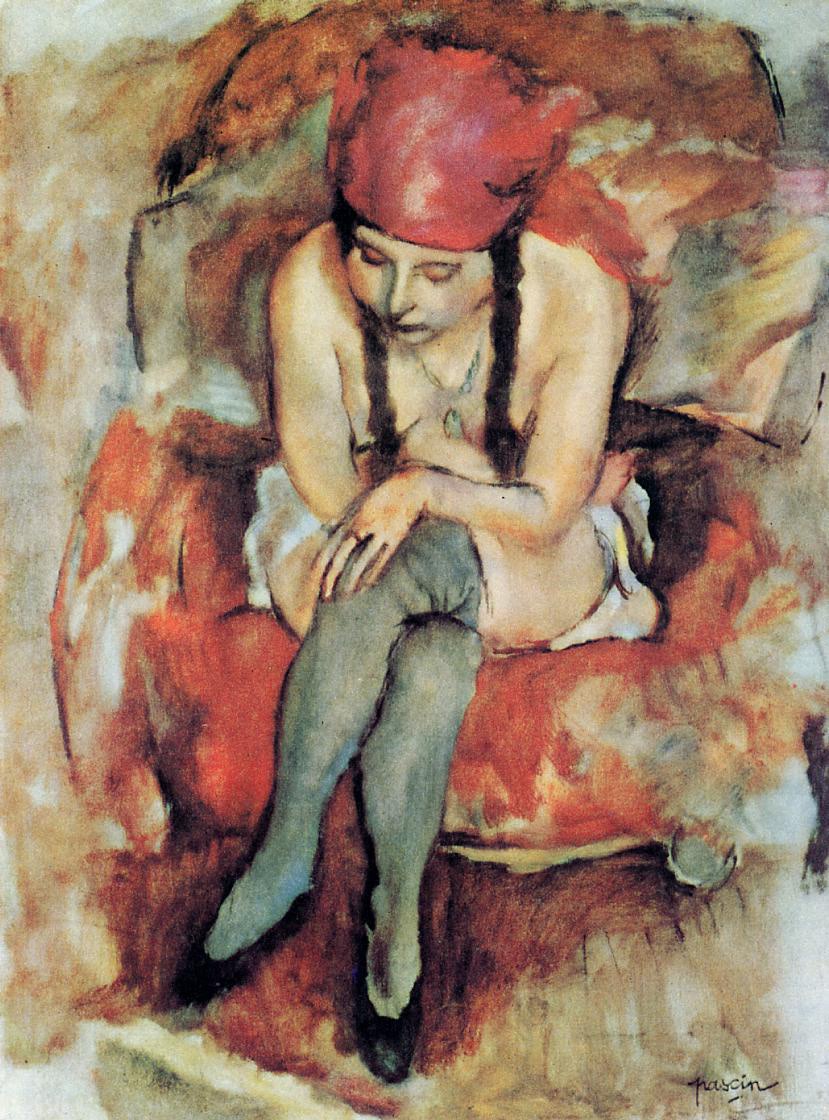 On March 31 1885, Bulgarian artist Jules Pascin was born. Otherwise known as 'Prince of Montparnasse', Pascin is most known for his paintings and drawings of nude or partially dressed women. Pascin travelled through Europe and the United States but spent most of his time in Paris, where he associated with the artistic circles of Montparnasse.
Pascin's first artistic training was in Vienna in 1902, aged seventeen. He relocated to Munich a year later, to study at Moritz Heymann's academy and contribute drawings to a local satirical magazine. Because his father did not want the family name to be associated with these drawings, Jules Pincas started using the pseudonym Pascin. The artist moved to Paris in december 1905 and would hold his first solo exhibition two years later in Berlin. He continued to show his work in commercial galleries, salons and at exhibitions in Germany throughout the following years.
In those early years, Pascin did mainly drawings and it was only between 1907-1909 that he would to his first paintings. They were portraits and nudes influenced by Fauvism and Cezanne. For his subjects, he drew upon his surroundings and friends.
He exhibited for the first time in the United States in 1913, when some of his paintings were put on show at The Armory Show in New York. With the outbreak of the war, he and his girlfriend Hermine David, a talented painter herself, moved to London and then on to the United States to avoid service in the Bulgarian army. The couple would stay there for six years, sitting out the war. They got married in New York with friends and painters Max Weber and Maurice Sterne as witnesses. Pascan made many drawings in the South, an area of the United States he particularly loved. When war was over, the couple moved back to Paris and Pascin began a relationship with an old lover of his. It is during this time that he gradually became the symbol of the Montparnasse bohemian artistic community. During these 1920s in Paris, he painted mostly prostitutes waiting for clients or models waiting for the sitting to end. The money made on these works was quickly spent again on partying.
In time, Pascin became deeply troubled by his inability to break through and achieve critical success. While his exhibitions were generally well received, some negative reviews in 1930 threw him off balance. Having struggled with severe depressions and alcoholism before, Pascin committed suicide at the age of 45, on the eve of the opening of another solo show. His death deeply affected the Montparnasse artistic community. He rests at the prestigious Montparnasse cemetery and his work can be discovered in the collections of The Metropolitan Museum of Art in New York, National Gallery in Berlin or the Louvre in Paris amongst others.