Roberto "Bobby" Chabet
Art on This Day
Roberto "Bobby" Chabet is widely acknowledged as the father of Philippine conceptual art. He was born 29 March, 1937.
He was a teacher and a mentor as well as an artist and sculptor in his own right, and his conceptual art installations in the 60s and 70s were considered as renegade works. He was born as Roberto Rodriguez but used Chabet, his mother's maiden name, when he started to make art. At the time, he explained this by saying that he didn't want to be confused with the artist Manuel Rodriguez Sr., who was already established but had no relation to Roberto.
He graduated with a degree in Architecture from the University of Santa Tomas in 1961 and had his first exhibition at the Luz Gallery that same year. He was the founding museum director of the Cultural Center of the Philippines and served as curator thee from 1967-70. He also initiated the first 12 Artists Awards, giving recognition to young artists who were working in new ways, turning away from traditional modes of art-making. He organised landmark exhibitions featuring work by young artist throughout his career.
He led the 1970s conceptual art group called Shop 6 and taught for over 30 years at the UP College of Fine Arts, where he espoused an art practice that gave precedence to idea over form. Chabet described his pieces as "creatures of memory" and himself as their "custodian." His works are the result of a process of unraveling of fixed notions about art and meaning. Highly allegorical, his drawings, collages, sculptures and installations question modernity.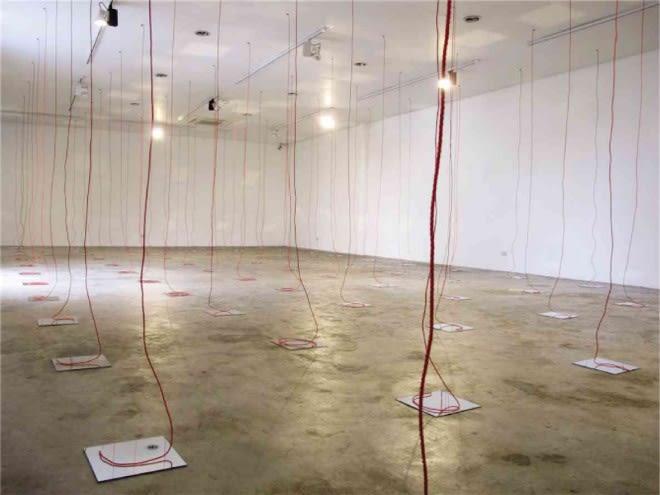 "TOWARDS 1001 Isthuses" (2012) by Roberto "Bobby" Rodríguez Chabet (1937-2013).
His works are meditations on space, the transitory nature of commonplace objects and the collisions that occur with their displacement. Prolific and multifaceted, Chabet ventured into architecture, painting, printmaking, sculpture, stage designing, teaching, photography and writing.
Often perceived as too upfront and candid, Chabet readily spoke his mind out and showed a disdain for false accolades and the conventions dictated by players in the art world. If anything, he was uncompromising in his quest for creation and his search for the sublime, which he readily found in commonplace objects.
In 2011, there was a yearlong series on his work, Roberto Chabet: Fifty Years, curated by the Ateneo Art Gallery in Manila in partnership with a number of important galleries across Southeast Asia, including Osage in Hong Kong and ICA in Singapore.
He died 30 April 2013.