Solomon Robert Guggenheim
Art on This Day
Solomon Robert Guggenheim was born on this day in 1861. Part of the famous Guggenheim family, the American art collector and philanthropist concentrated the first few decades of his professional career in the mining industry before turning to art collecting in its entirety at the onset of 1920s. He began his collection by acquiring artworks by new masters, and his interest begun to steer towards modern painting upon meeting abstract artist Hilla Rebay, who advised him on collecting non-objective art and later assisted as a curator of his exhibitions until shortly after his death.
With the aim of "promotion and encouragement and education in art and the enlightenment of the public" , the collector established the Solomon R. Guggenheim Foundation in 1937. Together with his wife Irene Rothschild, they held a reputation of leading an opulent lifestyle; their suite at the Plaza also served as a space for Guggenheim's first exhibitions.
With growing demand for a space to store and display the collection, Guggenheim co-founded the Museum of Non-Objective Painting with Hilla Rebay, with the opening exhibition, "The Art of Tomorrow" arranging paintings close to the floor to allow introspection by seated viewers. The show featured paintings by Rudolf Bauer, a close acquaintance of Rebay, and by one of Guggenheim's most favoured artists, Wassily Kandinsky; the collector had acquired over 150 paintings by the artist.
It adopted its current name after the death of its founder, Solomon R. Guggenheim, in 1952. In 1959, the museum moved from rented space to its current building, a landmark work of 20th-century architecture. Designed by Frank Lloyd Wright, the cylindrical building, wider at the top than the bottom, was conceived as a "temple of the spirit.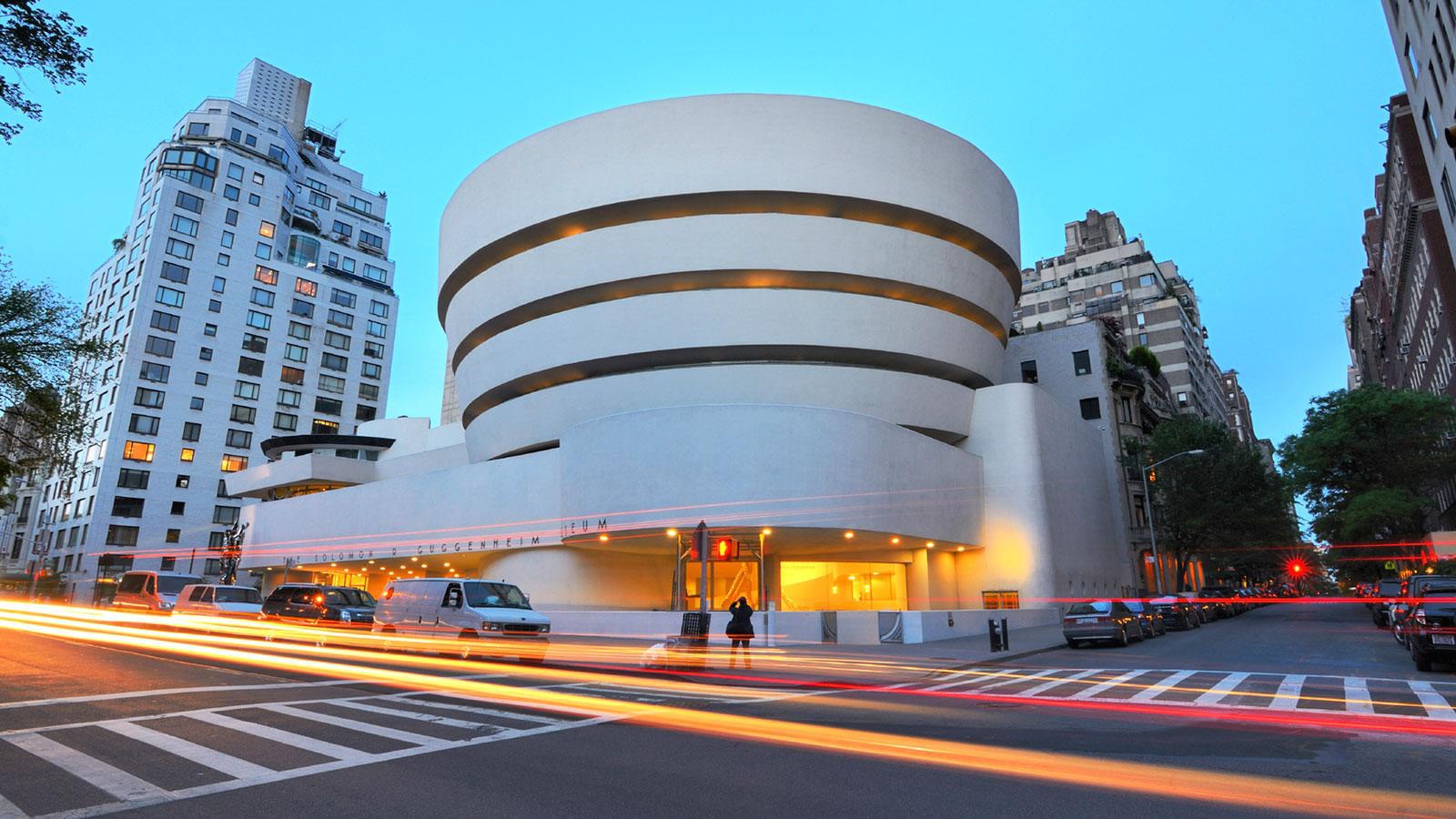 To this day the Guggenheim Museum is a permanent home of a continuously expanding collection of Impressionist, Post-Impressionist, early Modern and contemporary art and also features special exhibitions throughout the year.
The exhibition line up for 2017 is as exciting as ever with shows including Visionaries: Creating a Modern Guggenheim displaying work from the collections of six early patrons from Peggy Guggenheim to Justin K, Jackson Pollock: Exploring Alchemy with artwork by the postwar, abstract artist and Mystical Symbolism: The Salon de la Rose+Croix in Paris presenting the symbolist art, to name just a few.