Art in Print
our daily digest of art stories in the mainstream press
Artist transports Rosa Parks' former Detroit home to Germany
The Detroit home of civil rights activist Rosa Parks has been dismantled and moved across the Atlantic by a Berlin-based artist after it faced demolition in its original location. Parks' refusal to surrender her bus seat to a white person in December 1955 is one of the most famous moments in the history of the modern civil rights movement in America. Her ensuing arrest triggered the year-long Montgomery bus boycott, a successful protest campaign against Alabama's racial segregation policies.
The facade of the two-storey building, home to Parks in the 1950s and 60s, was shipped from the US to Germany last month, after having been donated by one of her relatives to Ryan Mendoza, an American artist based in the German capital.
Over the next three months Mendoza will try to reconstruct the building at his studio in Berlin's Wedding district, after which it could tour galleries around Europe in an attempt to raise awareness of its neglected existence in America.
A New Yorker who has lived and worked in Europe for over 20 years, Mendoza had gained attention in the city for a series of controversial projects. Earlier this year, he moved a family house from Detroit's low-income 8 Mile Road area into a permanent exhibition at the Verbeke Foundation in Belgium. In another provocative project, Mendoza restyled two abandoned Detroit homes so that light shining through bullet holes at night displayed the names of Donald Trump and Hillary Clinton.
The fine art of living in London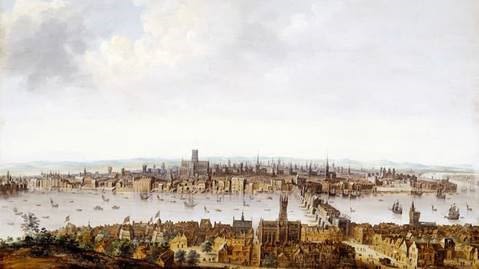 Illustrations of London were much in demand among the classes that were able to afford the city's fineries. The most prominent of the artists who drew them was Wenceslaus Hollar, whose meticulous views chronicled London's growing stature. In his Long View of London from Bankside of 1647, a panoramic sprawl shows the old St Paul's Cathedral standing high above an energetic, if not the most beautiful, city.
But that view changed for ever just a couple of decades later, following the Great Fire of 1666 Hollar himself responded with a new version of his now-famous panorama after the sad calamitie and destruction by fire.
By the beginning of the 18th century London was Europe's largest city, a fact its more prosperous citizens were keen to celebrate. A Microcosm of London, published in three volumes between 1808 and 1810, was unashamedly aimed at the luxury market. The set, adorned with Thomas Rowlandson and Auguste Pugin's celebratory illustrations, cost a whopping 15 guineas.
Modern London's artists have continued to hover between the extremes of the city's life, from its cosmopolitan vitality to its seemingly inevitable social problems. Dominican-born Tam Joseph brings exuberance to his troubling version of the Notting Hill Carnival, Spirit of the Carnival (1983), in which a masquerader defies a circle of police riot shields that surround him.
Can artists find lyricism in the metropolitan fervour of today's London? David Hepher's 1984 Camberwell Nocturne shows day and night scenes of a tower block, contrasting the menacing aspects of the daylight hours with the peace of night-time, when the block is improbably transformed, in the artist's words, into a "mass of coloured lights against a velvet sky".
Art Sales: can the Italian art market maintain momentum?
It is often overlooked in the welter of publicity surrounding the Frieze Art Fair that Frieze Week is also modern and contemporary Italian art week in London. These annual auctions are seen as the prime indicator for the health of the market for modern Italian art. In their early days, before Frieze arrived, they would take about £10 million for a mix of early and later 20th century art – from the Futurists to Arte Povera (art made with worthless materials). By 2010, this figure had risen to nearer £36 million, and between 2013 and 2015 doubled from £42 million to £84 million. But can the momentum be sustained?
For Mariolina Bassetti of Christie's, the Italian sales are only partly about upholding prices for the more established artists. The real excitement she says is introducing artists who are not well known outside Italy to a more international market, such as "Op" artist Franco Grignani, who died in 1999.
His swirling black and white Accumulated Projection, 1965, is the first example of his work offered in an Italian sale in London. If it exceeds its £35,000 estimate it will achieve a record.
This week there are just as many Italian lots as there were last year, but fewer of high value, and the pre-sale estimate is down 24 per cent from last year at £45 million. Top price is expected for a burnt red plastic work by Alberto Burri, a forerunner of Arte Povera, at £3-4 million at Sotheby's. But whereas last year there were 24 works by the Italian market leader, Lucio Fontana, that sold for £36.6 million, there are only 13 Fontanas this year, with a combined estimate of £5.2 million
The Italian sales may not make as much as they did last year, but the odds are that there will be just as many record prices.
Meet the man behind the Tate Modern's brilliant new Turbine Hall installation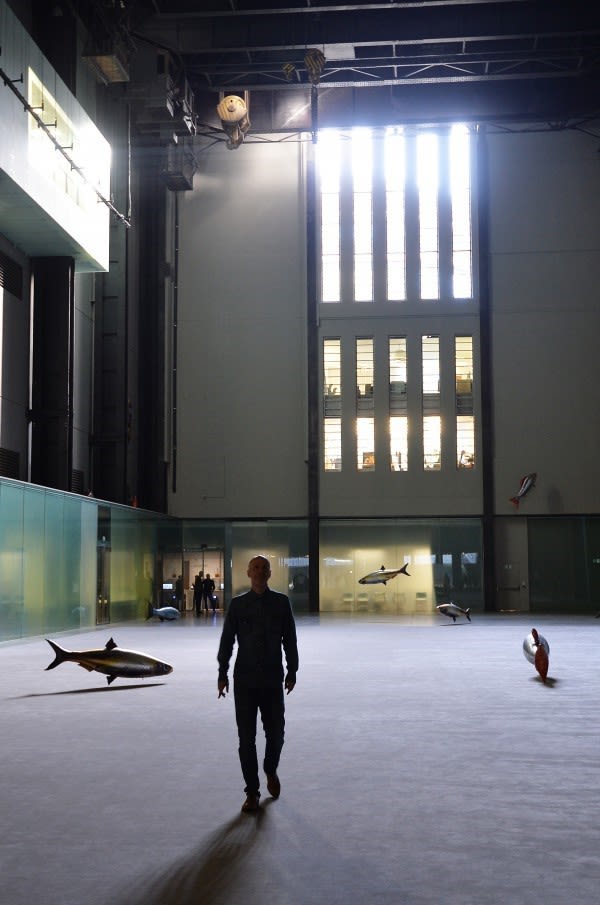 Parreno makes the familiar strange, parcelling oddities together into complex environments: total works of art that he refers to as 'sequences'. His latest, Anywhen, is the new commission in Tate Modern's Turbine Hall; it follows similar, sprawling exhibitions of interlaced components in Paris, New York and Milan.
My Room is a Fish Bowl helium-filled fish balloons are weighted so that they float at different heights within a building. The fish pootle about as the air currents take them. They float off into unexpected places and intrude on situations in the most impertinent manner.
A series of sculptures that look like dismal, bauble laden Christmas trees carry the self-explanatory title: Fraught Times: For Eleven Months of the Year it's an Artwork and in December it's Christmas. In the film Zidane: A 21st Century Portrait (2006) the cameras documenting a football match instead turned to a single player for its 90-minute duration.
Boredom is not on the agenda at Tate: instead Parreno compares the experience of Anywhen to visiting a park or pleasure garden. There is a carpet on which you can run around or hang out, and various diversions, including a film featuring the ventriloquist Nina Conti. "It's a bit like a magic act," he says of formulating the work. "There's always a beginning, a middle and an end, even to sculpture."
Hyundai Commission: Philippe Parreno is at Tate Modern from 4 October 2016 to 2 April 2017.
Via inewspaper
Kai Althoff at the Museum of Modern Art, New York — 'Chaotic'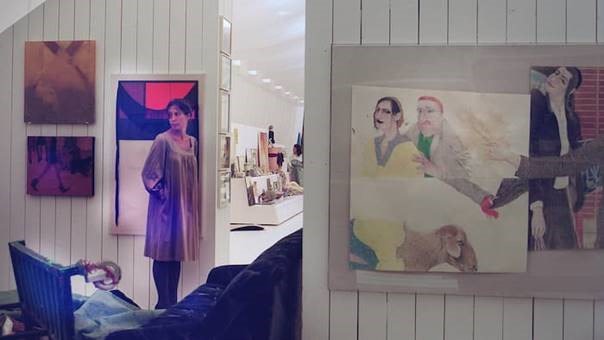 There must be a reason, other than pure surrender, why New York's Museum of Modern Art gave the intermittently talented Kai Althoff full control over his own mid-career retrospective. The museum's professionals stood by as he stuffed the show full of too many objects, dreamed up a chaotic installation beneath a tent he designed for the occasion, wrote the press release, chose the soundtrack, and even piped in a woodsy smell. The result, a self-portrait in bric-a-brac titled and then leave me to the common swifts, resembles a sloppy teenager's bedroom. The 50-year-old Althoff undermines his limited gifts with adolescent grandiosity, laying out soiled rags and tea-stained crockery like holy relics, simply because they are his.
In some cases, curators have abandoned essential tasks of selection, organisation and sense-making; in others, they have ceded institutional control altogether. The 2014 Sigmar Polke retrospective denied viewers any coherent way to navigate or identify the works by date, title or medium, consigning crucial information to an indecipherable brochure.
The Althoff retrospective takes obfuscation to new extremes, offering a checklist, illegibly printed on green paper, that lists works only in order of medium — an irrelevancy given the pandemonium. Althoff sets his old-fashioned and otherworldly paintings into trippy tableaux that include mannequins draped in costumes, vials of blood, dolls, desiccated cockroaches, silk slippers, dirty dishes, blankets, pots and parasols.
In the barely literate statement that accompanies the show, Althoff explains that he considers his work too shabby for MoMA's curators to understand. "I cannot defend or think of it as something people need to see or bother with. These were often just done for myself in the very first place. Yet to leave it to others to put them in order and arrange them for display and consumption as a somewhat logical consequence deriving from this lack of my own ability to analyse and emotionally realize their gravity feels impossible and wrong." In other words, he has no idea how to organise his thoughts and won't trust anyone else to do it for him.