Art in Print
Victorian conjuror's collection goes on show at British Library

In 1895 the British Library did something extraordinary: it bought, for 20 shillings, the entire collection of a down-on-his-luck conjurer and collector, the Great Evanion, "the royal conjurer and humourist". By then Evanion, real name Harry Evans, was living in a basement flat in Kennington, south London, but he brought a whole world of Victorian popular entertainment to the library packed into several suitcases. Now treasures from his collection are going on display for the first time after more than a century in a free exhibition opening at the library this week. The displays include photographs, tickets, trade cards, receipts, playbills and hundreds of brilliantly colourful posters for menageries, pantomimes, magic shows, music halls and mesmerism.
The exhibition's co-curator Helen Peden said: "It was a remarkable purchase because in those days the library would have had very little interest in ephemera, but Evanion had a reader's ticket for researching the history of magic, so it may have been partly an act of kindness to him. The price the library paid might not seem very much but it was quite a lot of money in those days, and if it had been more than 20 shillings it would have had to go before the trustees – who would certainly have rejected it."
The exhibition also has vintage film and archive recordings of stars including a 1902 home movie of Dan Leno, regarded as the greatest pantomime dame of all time. Magicians' props have been loaned by the Magic Circle, including some invented and made by John Nevil Maskelyne, who also invented the penny-in-the-slot lock for public toilets that remained in use into the 1960s.
Via: Guardian
Jean Tinguely's Clamor Still Echoes Today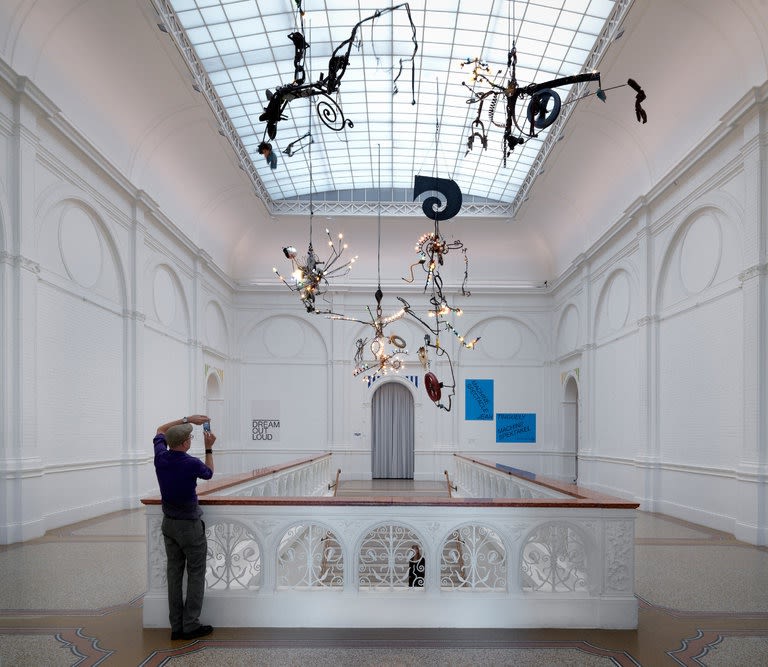 The exhibition,
Jean Tinguely — Machine Spectacle
at the
Stedelijk Museum
of contemporary art and design is seeking to remind us how revolutionary and countercultural the Swiss artist
Jean Tinguely
's artworks were. With more than 160 objects, as well as film footage, newspaper clippings, letters and other documents, the exhibition depicts the wide range of experiences that Tinguely provided to anyone who saw his exhibitions or stumbled into one of his multidisciplinary "happenings."
At the heart of the show are 62 machine sculptures, made from the 1950s until Tinguely's death in 1991 — noisy, clunky, yammering clusters of metal that shimmy, whip, jolt and crash into anthropomorphic life when visitors press a big red button on the floor. "A lot of people consider him to be a fun artist for children," the exhibition's curator, Margriet Schavemaker, the head of education, interpretation and publications at the Stedelijk said. "You push a button and something starts moving. This show wants to show you that he was so much more. "He was fascinated by death and destruction, he was a conceptual artist, and he really questioned a lot of issues that were central in the art world, like authenticity, unicity, materiality," she continued.
Jeroen Boomgaard, an assistant professor of art history at the University of Amsterdam, said Tinguely was a major influence on his contemporaries and was avidly collected. His influence may be less today, Mr. Boomgaard said, because many of his ideas of have been absorbed into the canon of art. "Today in art and design, there's a lot of talk about interactivity, and people want to be able to touch things and have them react to you and that you can relate to them in some kind of personal way," he said. "From the very start, Tinguely gave this idea of interactivity a really absurdist side because you touch something and then it does something really weird in response."