Paul-Émile Borduas
Art on This Day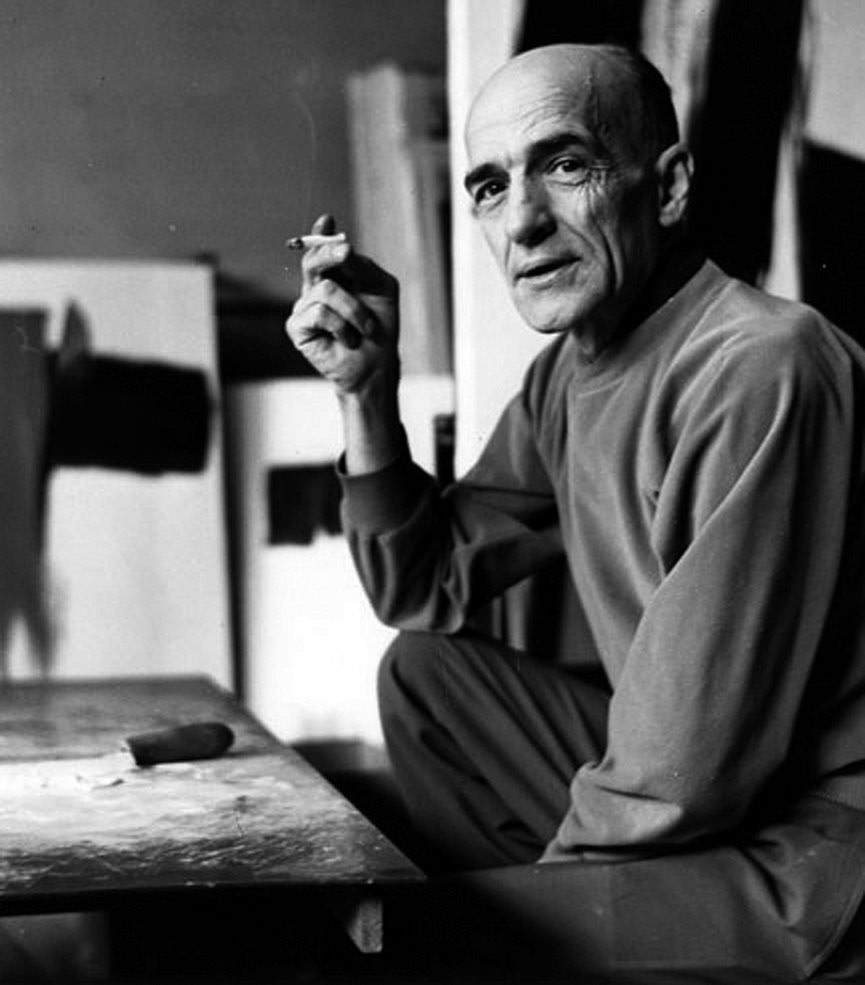 Abstract Quebec painter Paul-Émile Borduas was born on this day in 1905, Mont-Saint-Hilaire, Canada. He is said to be one of the most influential figures in modern Canadian art. Primarily known as being the leader of the avant-garde Automatiste movement, he developed a spontaneous style of non-figurative painting. Borduas was the principal author of the Refus Global, an influential manifesto calling for freedom of expression, and signed by many of Quebec's leading artists and intellectuals.
His first known artistic activity as a child was engaged in Bricolage. At the age of sixteen, Borduas met Ozias Leduc, and was immediately taken under Leduc's wing, which he then proceeded to become his apprentice. In a span of a couple of years, Leduc taught and provided him with basic artistic training, teaching him how to restore and decorate churches. In 1928, after a brief period of teaching in Montreal primary schools, Borduas traveled to France, where he studied decorative church painting under Maurice Denis and Georges Desvallières at the École des Arts Sacrés, Paris. He returned to Montreal in 1930, working again for Leduc and teaching. In 1937, he obtained a faculty position at the École du Meuble, remaining there until 1948; his students included Jean-Paul Riopelle, Marcel Barbeau and Roger Fauteux. When the Contemporary Arts Society was founded in 1939, Borduas was elected vice-president.
It was his discovery of Surrealism that marked a pivotal moment for Borduas; he read works by André Breton, who defined Surrealism as "pure psychic automatism," and began experimenting with gouache in non-representational works. The 1942 exhibition of his first Surrealist works, held at Montreal's Théâtre de l'Ermitage, garnered rave reviews. The artist soon applied his experiments to oil and exhibited along with Riopelle, Barbeau, Fauteux, Pierre Gauvreau, Fernand Leduc and Jean-Paul Mousseau, a group labelled the Automatists. When Borduas published the Refus Gobal in 1948, his attacks on Catholicism and nationalism caused an uproar in the media, and he was summarily dismissed from his teaching position at the École du Meuble.
Borduas's move to New York in 1953 was of great importance to his artistic development, as he saw the work of artists from the

New York School of Abstract Expressionists

, including

Jackson Pollock

,

Franz Kline

and

Mark Rothko

. It was there that he began using a palette-knife, exclusively, to apply paint, and became preoccupied with light and space. In 1955, he moved to Paris, where he continued to paint, write and travel, despite failing health. Paul-Émile Borduas has been the subject of countless international exhibitions, both during his lifetime and posthumously, and lends his name to the

Prix Paul-Émile Borduas

awarded each year to a distinguished Quebec visual artist.