Art in Print
Bob Dylan's paintings of landscapes seen from his tour bus to go on display in London gallery

Nobel – Prize

winner of literature, Bob Dylan, 75, has painted all his life, but the show at the

Halcyon Gallery

is made up of new work inspired by the landscapes he sees from his tour bus as he crisscrosses' America on his "never-ending tour". Paul Green, who runs the gallery and has worked with Dylan for almost a decade, said: "He has always drawn and painted but he has spent most of his life travelling and when you're on a tour bus and doing concerts, and still he is doing over a hundred dates a year, he draws." "It is maybe part of forgotten America or if you're a European or you think about America from the movies and westerns it is a romantic view. It is the first time you went to New York and saw the Brooklyn Bridge or a hotdog stand or the steam coming up out of a road. That is what he's interested in, he's interested in these particular parts of America that some people would steamroller over." Dylan has built up a base of collectors willing to spend large sums of money on his art, but Mr. Green said he hoped ordinary Dylan fans would visit the show as well. He said: "The joy of art is it should be viewed and Dylan certainly wants his art to be seen like he wants his music to be heard." The Beaten Path opens tomorrow and runs until December 11.
New photography show puts the focus on 'strong women'

Actress Tamsin Egerton, and the fashion designers

Daphne Guinness

and Savannah Miller are among the famous faces in a new London photography show celebrating strong women. Their portraits will hang alongside images of Hollywood stars Melanie Griffith and Tippi Hedren at the show, which launches next Thursday at

Café Royal

and stays there until December 21 when it moves to the

Zebra One Gallery

in Hampstead. Fashion photographer

Alistair Guy

said his portraits were "a celebration of femininity". The exhibition includes women of different ages and experiences, from the worlds of fashion, film and music. It was inspired by Guy's close relationship with Daphne Selfe; as one of the world's oldest supermodels, he felt that she captured the spirit of the strong woman. All images in the exhibitions were shot on film only using natural light and mostly in home of the subjects
Via: The Evening Standard
Forgotten oil painting could be lost Raphael, as scientists date it to 16th century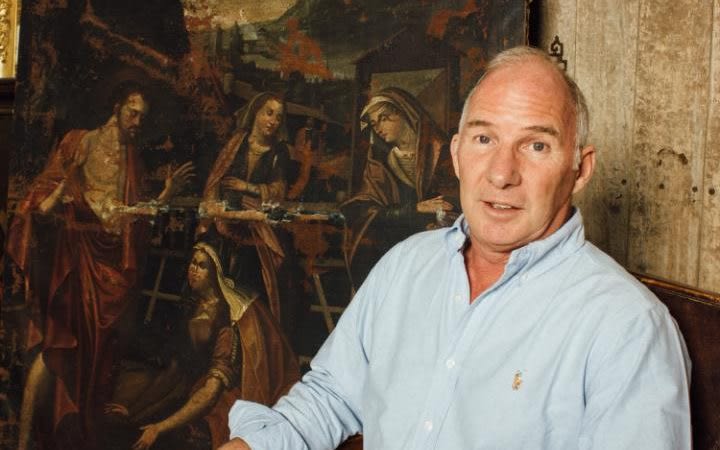 When antiques collector Stephen Hibberts discovered a dirty oil painting of Jesus at a fair in Avignon he believed he was buying an unremarkable reproduction that was worth a few hundred pounds at best. The portrait entitled Noli Me Tangere (Don't Touch Me) was lying awkwardly on the ground where people were forced to step over it. One person even accidentally trod on the frame causing the canvas to be pierced by a pieces of limestone.
Yet after studying the painting over many years, Mr Hibberts began to suspect he had uncovered something quite special. Hidden in the image were secret clues which suggested the painting was not only hundreds of years older, but could be a lost Raphael worth tens of millions.
Although experts at Sotheby's,

The National Gallery

, Oxford and Cambridge University assured Mr. Hibberts he had found a Victorian fake, he refused to give up and asked scientist at Bradford University to test the paint to see if it could date the painting.
In a study published this week, they confirmed that the pigments – cinnabar, haematite red lead, lead white, goethite, verdigris green and azurite – were all commonly used in a Renaissance palette making it liking that it dates from the early 16th century.
Coincidentally, the painting of Christ depict his right foot with six toes, a familiar technique used by Renaissance artists, particularly Raphael. The painting also appears to contain a signature which is currently unidentified, though expensive restoration work will be needed to identify it. Mr Hibberts is now hoping to raise enough money to restore the signature so that it can finally be verified. But he said that the new research finally gave credence to his belief that the painting was genuine.
Via: The Telegraph
Chile Gets Its First Public Museum of Contemporary Art
Chile is about to launch its first-ever state-run contemporary art institution, the
National Centre for Contemporary Art Chile

. The new museum, located on the site of the former Los Cerillos Airport that was active between 1929 and 2006, has been entirely funded by the Chilean government to host its growing contemporary art collection, without a permanent home until now.
Donated to the Chilean government by the American philanthropist Daniel Guggenheim in 1928, the grounds where the airport use to stand, was inaugurated the following year and was seen as a symbol of democratization and modernization. The building was transferred to the

N

ational Council of Culture and Arts Chile earlier this year. The government runs a number of museums in the country already, most notably the Chilean

National Museum of Fine Arts

, National Museum of Natural History, and National Historic Museum. The opening of this first public museum of contemporary art could signal a new focus on contemporary Chilean art, and a new phase in the country's cultural policies at large. At a moment when Latin American art and art markets are increasingly relevant on the international scene, Chile seems decided to find a place in the spotlight.
Via: Art Net