Art in Print
The Russian Avant-Garde Rising in 'A Revolutionary Impulse'
The Museum of Modern Art in New York more or less set the standard for the broad swath of media typically collected by a fine-art museum by creating the first departments of photography, film, design and architecture. The new exhibition works differently.
'A Revolutionary Impulse: The Rise of the Russian Avant-Garde' presents an unprecedented act of integration by the museum, tracing the progress of one art movement, by drawing equally from all departments. In this case, it assembles more than 1,000 modern Russian art works from all media such as paintings, drawings, objects, sculptures, posters, illustrated books, film, theatre sets, costume design, prints, and one architecture model. For visitors of a certain age, the sight of works in different media so thoroughly mixed is a startling thrill.
Organized by Roxana Marcoci and Sarah Suzuki, assisted by Hillary Reder, the show spans 1912 to 1934. Some works are recently acquired, others have not been on display for years, and several are by overlooked artists.
Nearly everything in this exhibition proposes that the Russian Revolution precipitated a giant step for art, if not necessarily for humankind. Also, the display approach is a significant move for the MoMA, which should organize broad, all-collection endeavors.
Let it bleed – art's revival of menstrual blood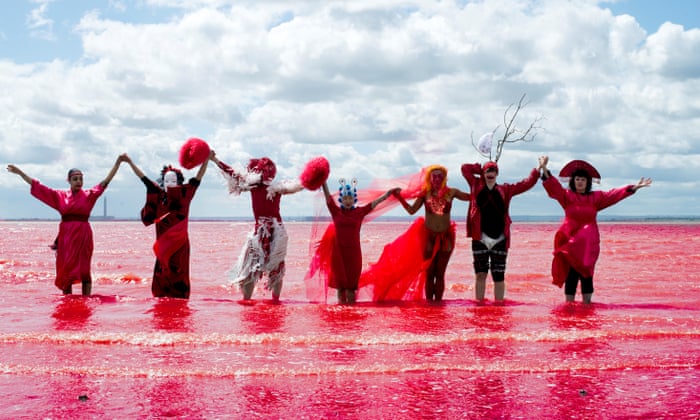 About a year ago, the performance artist H Plewis began collecting her own menstrual blood. She then mixed it with jelly and let it set into the form of a rabbit. "I thought jelly was a good substance as it reminded me of the plasma in your period," she says. For Plewis, her own blood had become a piece of art.
The rabbit will feature in her act in the show Dr Carnesky's Incredible Bleeding Woman, which premieres tomorrow at the Soho theatre in London. The cabaret show intertwines politics with entertainment; there will be illusions, sword swallowing and hair hanging. And lots of blood. "We are playing with the idea that menstruating is magic," says Marisa Carnesky, the show's director.
The show's thesis is based on work by the radical anthropologist Chris Knight, who, drawing on the ideas of Friedrich Engels, claims that the transition from primate to human culture was through the discovery of female solidarity. As women supposedly synchronised their menstruations to the 29-day cycle of the moon, men were, in theory, able to go hunting knowing their women wouldn't be harassed by other men for sex.
"Looking at this research, you can come to the conclusion that the idea of witches came from these events, where women came together on the dark moon to seclude themselves and menstruate," Carnesky explains.
The concept of using menstrual blood to create art has gained even more prominence in the past few years. Jen Lewis makes an ongoing series of photographs of her period creating bloody shapes in toilet bowls. She calls it Beauty in Blood. Lewis wants her photographs to be the starting point for people to confront the stigma that has surrounded menstruation for decades. Carnesky believes art and subcultures are key to challenging norms. "As women, we've internalised a misogynist culture that has tabooed menstruation and said it is dirty. Reclaiming it is so important because it's one of the most powerful things the body goes through and we should celebrate that."
Via The Guardian
Zaha Hadid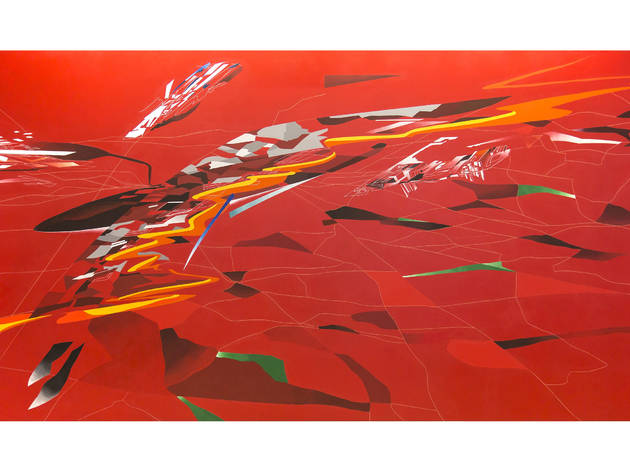 Being an architect must be so frustrating. At every turn, your artistic vision gets constrained by town planners, clients and engineers. Even the laws of physics stop you in your tracks. Visionary architectural nutcase Zaha Hadid, who died in March 2016 at 65, must have felt that frustration more than most. She wanted more than was physically feasible, abstraction brought to life, structures that exist outside of the realms of possibility.
In her drawings and paintings though, there were no limits. The result is a collection of nearly abstract visions of impossible future cities.
The earlier paintings are the most realistic. They look like your standard architectural imagery at first, but odd elements pop out: rooms on their sides, walls that intersect at multiple angles. But as the show goes on, the naturalism disappears, until the paintings are almost completely impossible abstractions.
The Russian avant-garde is the biggest influence, Malevich's constructivism especially, but she wanted something more than pure aesthetics.
The paintings have names like 'Berlin 2000', 'London 2066' and 'Visions for Madrid, Spain'. It's like she really thought it could all happen, that these geometric constructions could not only be built, but should be.
Via Timeout
Retired French doctor is unwitting owner of 'lost' Leonardo da Vinci drawing worth €15 million
An "extraordinary" drawing by Leonardo da Vinci valued at €15 million (£12.5 million ) was unveiled on Monday in Paris after a retired French doctor brought the lost work to an auction house amongst a jumble of unknown sketches.
Thaddee Prate, Director of Old Masters Pictures at Tajan auction house in Paris, said there was no doubt the "extraordinary discovery" was one of eight drawings of The Martyred Saint Sebastian mentioned in the Codex Atlanticus, a list compiled by the Italian Renaissance genius and master draftsman.
Mr Prate, 55, asked for a second opinion from Patrick de Bayser, an independent dealer and adviser in old master drawings, who examined the St Sebastian in Paris and instantly saw it was by a left-handed artist, like Leonardo. He also spotted diagrammatic studies of candlelight accompanied by notes written in a minute, Italian Renaissance right-to-left hand.
Tajan then sought a third, definitive view from Carmen C. Bambach, a curator of Italian and Spanish drawings at the Metropolitan Museum of Art in New York. When shown the Paris work, Dr Bambach said: "My eyes jumped out of their sockets." For Dr Bambach, the newly discovered drawing is the finest of the three known studies associated with what may have been a lost painting of St Sebastian. The other two are held in museums in Hamburg, in Germany and Bayonne, in France.
She estimates the drawing's date at 1482 to 1485, during the early phase of Leonardo's period in Milan, when he painted his first version of "The Virgin of the Rocks," now in the Louvre.
"I'm very pleased," the owner calmly said. "But I have other interests in life other than money."
Via The Telegraph
Skyscraper criticized by Prince Charles will be the subject of a new exhibition
A city skyscraper that caused a royal row despite never being built is the subject of a new exhibition, decades after plans for the building were thrown out.
The original model for renowned architect Mies van der Rohe's unrealised Mansion House Square Project has been borrowed from the personal archive of developer Lord Palumbo. The developer was forced to eventually scrap the scheme, famously described by Prince Charles as "a giant glass stump, better suited to downtown Chicago than the City of London".
The Prince's criticism was made in an infamous speech to the Royal Institute of British Architects, which is organising the show.
Riba's exhibition will examine the plans for the unbuilt 20-storey glass tower and the building that eventually took its place at No 1 Poultry. Planners eventually rejected the tower in 1985 after a protracted process and architect James Stirling was brought in and designed the building which currently sits on the site, complete with a distinctive stripey facade and clock tower. It is the first time in three decades that the model for van der Rohe's tower will have been seen.
Mies van der Rohe & James Stirling: Circling the Square is at the Architecture Gallery, Riba, in Portland Place from March 8 to June 25.
Via Evening Standard