Nancy Graves
Art on This Day

Nancy Graves

was born on this day in 1939 in Pittsfield, Massachusetts.
By the age of twelve she knew she was going to be an artist. Her interest was fed by repeated visits to the Berkshire Museum in her hometown, where her father was assistant to the director. The combination of art and natural history in that museum's collection was a formative influence in the approach to art she later developed, merging disciplines such as the natural sciences, history and cultural studies.
She studied painting at the

Yale School of Art and Architecture

with

Jack Tworkov

,

Alex Katz

, and

Al Held

, among others. In 1964 she was awarded a Fulbright-Hayes fellowship to study painting in Paris. The following year she traveled to Florence, where she discovered in the wax models of the seventeenth century anatomist

Clemente Susini

and the combination of visual aesthetics and the natural world that was to become a leitmotif in her own art.
Like-minded artists included

Eva Hesse

,

Bruce Nauman

,

Keith Sonnier

, and

Serra

, to whom Graves was married from 1965 to 1970.Her work has strong ties to the

Alexander Calder

's stabiles and to the sculptures of David Smith, with their welded parts and found objects; she collected works by both artists.

Nancy Graves, Camel VI, VII, VIII, 1968-1969
Graves' personal aesthetic emerged in 1966 in the form of realistic life-size sculptures of camels.
She made three camels (now in the collection of the

National Gallery of Canada

) that were exhibited in a solo-show at the

Whitney Museum of American Art

when Graves was just 29 years old. At the time, she was the youngest artist, and fifth woman to achieve this honor.
She explored paleontological and anthropological imagery in her sculpture until 1971, when she returned to painting.
During the early 1970s, she was also interested in filmmaking and produced five films, two of which featured camels (Goulimine, 1970; Izy Boukir, 1971).
In a 1985 collaboration with choreographer Trisha Brown, Graves created the set and costume for Lateral Pass, which brought her a New York Dance and Performance Bessie Award (1986).
She has executed prints since the 1970's exploring lithography, screenprint, monotype and the intaglio processes, including aquatint and drypoint.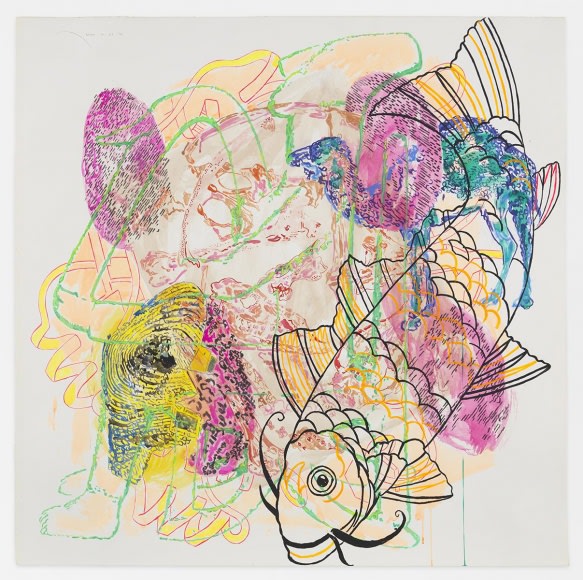 Nancy Graves, Cast Like Crabs, 1992, Watercolour, gouche and charcoal on paper.
Graves' has held several important solo exhibitions including those at The National Gallery of Canada, Ottowa (1971, 1973) , Museum of Modern Art, New York (1971) and several others. In 1987 The Fort Worth Art Museum organized a sculpture retrospective, accompanied by a catalogue raisonné. Having contributed to the artwork with countless expressions of creativity Graves died in New York City on October 23, 1995.