Art in Print
Painting a picture of the Brontë brother

One can hardly blame

Branwell Brontë, t

he bitter, drunk failed artist

,

for painting himself out of a family portrait with his famous literary sisters.
As the bicentenary of his birth approaches, the siblings' former home in Haworth, West Yorkshire, aims to shed new light on the often overlooked member of the family. Whereas

Anne

,

Emily

and

Charlotte

are known for their masterpieces such as

Wuthering Heights

,

Jane Eyre

and

Agnes Grey,

Branwell is often remembered as a frustrated artist, more famous for his abuse of alcohol and opium.
In an attempt to "get to know Branwell",

Simon Armitage

, the Huddersfield-born poet and playwright, has been appointed as a creative partner to the

Brontë Parsonage Museum

and will help to spend a £97,702

Arts Council

grant to celebrate the 200th birthday of Branwell next year, and that of Emily the year after. "Most people know Branwell either as the ne'er-do-well brother of the Brontë family or as the shadowy absence in his famous portrait of his three sisters," the poet said.
"We'll never really know Branwell properly, but in putting together events for his bicentenary I feel as if I've been privy to some of his hopes and dreams. Branwell's early promise and swaggering enthusiasm was ultimately overshadowed by the talents of his siblings, but even before then he appears to have lost his boyish optimism."
Physically small with flaming red hair, Branwell was quick witted and loved showing off in company. However, as the only son, he had an added financial burden, particularly after his mother's death in 1821. He failed to hold down jobs and spiralled into depression and substance abuse and died in 1848, aged 31.
12 Faces of Cate Blanchett: A Chameleon in the Armory

'Manifesto'

at the

Park Avenue Armory

, New York, a toweringly ambitious film installation is the creation of

Julian Rosefeldt

. He's a writer, director and producer, a German artist drawn to complex narratives and fusions of real and cinematic space. His latest effort consists of 13 short films whose scripts are stitched together from nearly 50 manifestoes mostly by 20th-century artists, composers, architects and filmmakers. From

Futurism

to

Pop Art

and beyond, the writings layer knowledge, language and style into head-spinning densities. Some of these treatises were important turning points in art history; others are nearly forgotten.
Ms. Blanchett

's voice-over quotes the most famous sentence from

Marx and Engels's 1848 Communist Manifesto

— "All that is solid melts into air" — then touches on the extremes of manifestoes from incendiary exhortation to laid-back parody.
The remaining 12 films belong to Ms. Blanchett. Some of her characters are passionate, about to explode; others are tranquil or tightly wound. To sit and watch (benches are provided) or to move among such intense, varied performances by one actor is thrilling, rare in a movie theatre.
Mr. Rosefeldt sets his vignettes in contemporary settings with Ms. Blanchett doing all the talking, speaking the manifestoes directly or in voice-over. Her characters are quickly established, fully dimensional and strikingly varied in appearance, carriage and accent. They include an impressively competent stockbroker reciting Futurist manifestoes with a slight Queens accent; an icy chief executive quoting manifestoes on abstract painting as if announcing the company's latest strategies; and an imperious Russian choreographer who rehearses a troupe of silver-garbed aliens more appropriate to Twyla Tharp, interspersing her impatient corrections with rebellious aphorisms from Fluxus and Performance artists. In "Funeral Speaker," a redheaded Ms. Blanchett, channeling Shirley MacLaine at her most elegant, harangues the unperturbed mourners with inappropriate invectives from

Dadaists

.
As a work of art, "Manifesto" may conform too much to the current taste for art as public, big-budget spectacle, but it is carefully wrought, thought provoking, elucidating and, for the most part, quite enjoyable. You will have fun and learn something, too, not least about the will and myopia required to be an artist — and that some manifestoes age much better than others.
13 snowy paintings in London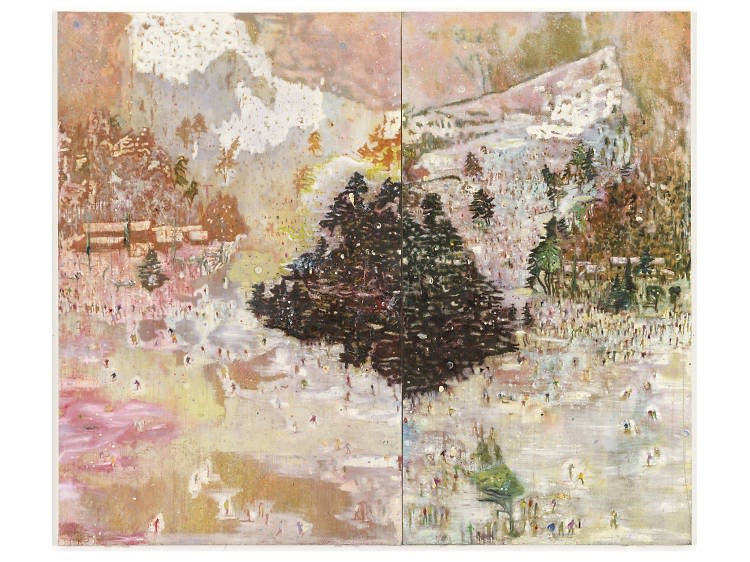 Peter Doig's early paintings are little frozen, ice-bound moments in time. One of there snow filled scenes, 'Ski Jacket', is based on a photo of people learning to ski in Japan, and features a swirl of stumbling, falling, awkward mountain amateurs. the image is a blurred haze like a kind of washed-out, fading memory captured in paint – a childhood ski trip you can barely remember, maybe. That clash of nostalgia and slipperiness is what makes this so much more than just a painting of snow, or of skiers, it makes it into a proper, beautiful, metaphorical work of art. See it in Room 11 at
Tate Modern

.