Art in Print
Fake ruled real as artist's denials brushed off

The authorities in South Korea have ruled that a painting by one of the country's most renowned artists is genuine, challenging claims by her family, international experts and the artist herself that the piece is a fake.
Prosecutors in Seoul announced yesterday that Beautiful Woman is indeed the work of

Chun Kyung Ja

, an internationally recognised painter who died last year at the age of 91.
A South Korean forger confessed to creating the picture, then retracted the statement. However, the Seoul central district prosecutors' office has rejected claims of copyright infringement and defamation by the artist's family after a five-month investigation.
The prosecutors said that experts had examined the painting using x-rays, infrared rays, digital imaging and handwriting analysis. They compared it with other authenticated paintings by Chun, as well as with forged pieces by the artist Kwon Choon Sik, who at various times has both admitted and denied being its creator.
"Scientific analysis of Beautiful Woman showed that it was created using the same techniques and materials, including rare and expensive mineral colours, which the artist used in other paintings," Bae Yong Won, the senior prosecutor.
Chun denounced it as a fake soon after the museum put it on display in 1991, and it has not been shown in public since.
An analysis by

Lumière Technology

, an imagery analysis company based in Paris, which was commissioned by Chun's family, put the chances of the painting being authentic at below 0.0002 per cent.
"The prosecutors conspired with the MMCA to ignore the scientific opinion of a world-class imagery assessment company," a statement by the artist's family said.
A Master Work, the Ghent Altarpiece, Reawakens Stroke by Stroke

Many layers of paint have been virtually and physically removed from the 15th Century Ghent Altarpiece, revealing for the first time in hundreds of years the individual brush strokes of the original paintings. In this first phase of restoration on one of the earliest art works to use oil paints on a large scale, new scanning techniques uncovered the singular skills of the Flemish brothers

Jan

and

Hubert Van Eyck

. As an early

Renaissance

piece, the altar is widely recognized as one of history's most influential art works. Consisting of 12 panels, it has at its center its most iconic panel, "The Adoration of the Mystic Lamb".
Pieces of the altarpiece have been stolen repeatedly over time, including by the Nazis, who stored it in a salt mine for most of World War II. In fact, one panel in the outer left corner of the inside has been missing since 1934 and has been replaced with a copy.
Restorers initially did not have permission to remove all the varnish and overpainting that had been done to the work, but finally were given the green light after new revolutionary scanning technology confirmed their hunches that what lay below was far more stunning and was "with more certainty than ever" painted by the Van Eyck's and finished in 1432.
The restorers' work behind glass panels can be viewed by museum visitors of the

Museum of Fine Arts in Ghent

.
Russian oligarch's staggering private art collection is the best show in Paris this decade

Paris is currently being wowed by an extraordinary exhibition, Icons of Modern Art, which is being staged at the new

Louis Vuitton Foundation

- a Frank Gehry building which opened in 2014. The show comprises some 130 paintings bought by the Russian collector,

Sergei Shchukin

and has already been hailed as one of the exhibitions of the decade. Shchukin built a fortune on trading fabrics, travelling regularly to Paris to buy new stock. On a trip in 1897 he bought a first painting by Monet, and he never looked back. By the outbreak of the First World War he had acquired more than 250 paintings by the greatest artists of the time.
Beside Monet, he bought Renoir,

Cezanne

, Van Gogh and Gauguin - 16 paintings from his Tahiti period hung in his dining room. He owned more than 50 works by Picasso, and most crucially of all an astonishingly rich collection of paintings by

Matisse

, including La Danse and Musique which he commissioned directly from the painter, who came to visit him in Moscow.
After the Revolution the art was seized by the state and, after the Second World War were split mainly between the Pushkin Museum in Moscow, and the Hermitage Museum in St Petersburg. So this is the first time that the bulk of the works have been re-united for nearly 70 years.
Serbian political party slams decision to build Andy Warhol monument in Belgrade
One of Serbia's leading political parties has denounced a decision to build a monument to Andy Warhol in the capital of Belgrade, describing Pop art as a "fad". Other places that have honoured the US artist with statues include New York, which is home to Rob Pruitt's silver sculpture, and Miková in Slovakia, where Warhol's family has its roots.
Uros Jankovic, the vice president of the

Democratic Party of Serbia (DSS)

, said that the decision to pay tribute to Warhol represented "an inferiority complex in relation to the West". Jankovic's scathing statement continued: "Even abroad, Andy Warhol and Pop art are not recognized as great art but as a fad, and testifying to this is the fact there are only two monuments to Warhol, while this would make Belgrade only the third city in the world to recognize him in this way."
V&A set to open gallery in China in 2017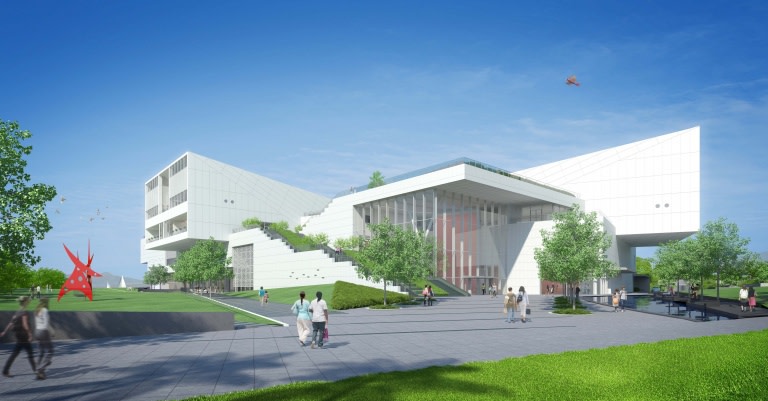 The
Victoria and Albert Museum (V&A)
has revealed plans for its first gallery in China, which will open in Shenzhen in October 2017.
The V&A Gallery will be the first collaboration of its kind between a UK museum and a Chinese partner – state-owned company China Merchants Shekou Holdings – with the design being carried out by Japanese architectural practice Maki and Associates. The gallery will focus on 20th and 21st century international design.
It will be part of a broader cultural hub called Design Society, located in the Sea World Culture and Arts Centre in Shekou, Shenzhen. The hub will feature several permanent exhibition spaces dedicated to subjects such as exploring the future of digital design, and China's shift from a "manufacturing centre" to an "innovation hub".
It will also include a 330-seat theatre, roof garden and retail areas, as well as two as yet unnamed V&A touring exhibitions which will go on display in 2018 and 2019.