Art in Print
Art by email: when artists are trapped in troubled regions
A new exhibition features work sent digitally by artists who are unable to travel. 18 artists from the Middle East and North Africa are taking part in a unique exhibition, Beyond Boundaries: Art by Email that is being held at the

Yorkshire Sculpture Park.
One of the main characteristics of the show is that all the works within the show were delivered electronically. When the EU visa restrictions made it difficult for artists in the troubled region to come to the UK the Yorkshire Sculpture Park realized the opportunity for this type of exhibition could be embraced. The gallery put out an open call to artists across the region for an original art work that reflects the challenges they face.
Via: FT
Fewer foreigners visit Paris art galleries
Following the Islamist militant attacks in the city in 2015 and atrocities elsewhere in France, the most popular art galleries in Paris saw a decline in visits by foreign tourists.
The number of foreign visitors to

The Louvre

dropped by 20% to 5.3 million.
The

Musee d'Orsay'

s total attendance was down 13% to three million.
The

Pompidou Centre

's overall figures rose 9% to 3.3 million in 2016 - but it said a rise in French visitors made up for a drop in foreign tourists.
The two major attacks said to have caused this fear and apprehension by visitors are the gun and bomb attacks in Paris on 13 November 2015 and the July 2016 lorry incident in Nice.
Presidential Portraits: Staring History in the Face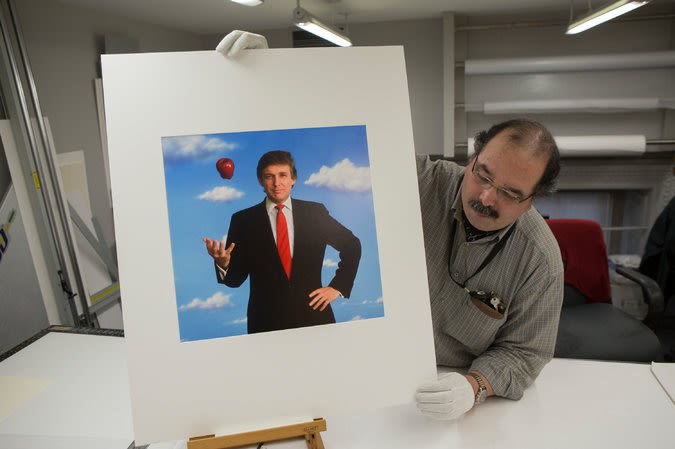 The portraits of the American presidents, many of which are on display at the White House or in the permeant collection display at National Portrait Gallery Washington will soon be joined by Donald J Trump. Like all newcomers to office, Trump can keep company with any portraits of his choosing to decorate the Oval Office.
Many of these images offer revealing history but it remains to be seen the interpretation of the National Portrait Gallery's portrait from its collection to temporarily go on display. It is a 1989 studio photograph by Michael O'Brien and appears to be a mild riff on René Magritte's 1964 painting "Son of Man".
The America's Presidents exhibition occurring at the National Portrait Gallery is a short walk from the white house and gives viewers the opportunity to approach the faces up close. Here you can see how concepts of how presidential power should look and act have changed with eras, artists and personalities (and with scholarly assessments of leaders, which are constantly being revised).
Via: NY Times