Art in Print
Climate change-inspired sculpture could be erected in Trafalgar Square
A sculpture inspired by climate change and "dedicated to Mother Nature" could be erected in Trafalgar Square.
Plans have been submitted to install the 16ft work, which shows a figure trying to harness the Earth, on a plinth in the shadow of Nelson's Column at the top of Whitehall, close to the statue of Charles I. Force Of Nature II, by Italian artist Lorenzo Quinn, is 40ft long and weighs between eight and 10 tons.
Halcyon Gallery in Bond Street, which represents Mr Quinn, has submitted the plans to Westminster council. The gallery suggests the plinth could be used for works by other artists, on the same basis as Trafalgar Square's fourth plinth.
Smaller, limited edition versions of the piece are priced from £50,000 to around £300,000. One has previously been displayed in Berkeley Square. Having a sculpture in such a landmark spot would be a priceless shop window for Mr Quinn's work.
Udi Sheleg, the gallery's chief executive hopes Force of Nature II, which is under construction, will go on display for six months from the spring or early summer. It would then be donated to a museum or exhibited in another public space.
Via Evening Standard
The Making of Virtually Real Art With Google's Tilt Brush

In 1949, a Life magazine photographer named Gjon Mili made a pilgrimage to the French Riviera to see Pablo Picasso. Mili had come up with a way to photograph trails of light, and he wanted to shoot Picasso "drawing" in midair with a light pen — a process that would leave no trace except on film. Picasso loved it.
Some 68 years later, Google has been calling on dozens of artists, animators and illustrators with a high-tech update of Mili's concept — a virtual reality setup that enables people to paint with light that actually stays where you put it, at least for viewers wearing a VR headset. In place of Gjon Mili are Drew Skillman and Patrick Hackett, a pair of video game developers turned virtual reality enthusiasts who live in San Francisco.
They were trying to build a 3-D chess application one night a couple of years ago when they discovered it had an unexpected side effect: As you moved the chess pieces around in virtual space, they left trails of light behind. In April 2015, seven months after they had cobbled together a rudimentary system they called Tilt Brush, Google bought their company for an undisclosed sum. With Google's support, Tilt Brush has attracted a team of developers and evolved into a sophisticated tool for drawing, painting, even sculpting in space. It was released in April as a free add-on to the new HTC Vive, an $800 virtual reality system produced by the Taiwanese manufacturer HTC in partnership with Valve, an American video game developer. Because the HTC Vive includes not just a virtual reality headset but also a pair of hand-held controllers and two tracking sensors that map your movement in space, the program was revamped to enable you to paint or draw anywhere within a room-sized area — no surface required.
So, what are people going to use it for? Suggestions are: performance art, virtual sculpture, industrial prototyping. But much more is surely to come.
How 'Bambi' Got Its Look From 1,000-Year-Old Chinese Art

The Chinese-American artist Tyrus Wong, who died last week at 106, was an incredibly accomplished painter, illustrator, calligrapher and Hollywood studio artist, but "passed much of his career unknown to the general public".
Mr. Wong is most renowned for his essential contribution to Walt Disney's 1942 animated classic, "Bambi." While he worked a drudge's job at the Disney animation studio during the day, he spent nights painting hundreds of watercolours to show his own vision of the film's look.
The spare but expressive style of Mr. Wong's work draws heavily from the landscape paintings of the Song dynasty (A.D. 960–1279). Song dynasty painting idealized the expression of the artist, and the painting as a direct connection with the heart and soul of its creator. Mr. Wong was also innovative in his use of vivid colours, rarely seen in traditional Chinese painting. Mr. Wong was fired from Disney in the aftermath of a labor dispute, but soon found work elsewhere in the film industry, where he illustrated scripts, drew storyboards and painted production images for more than two decades at Warner Bros. To get the job, he created a remarkable portfolio of Aladdin illustrations, which can be seen in the catalogue from his retrospective exhibition.
Hopes for sustaining Hull's cultural momentum rest on the Blade
The vast turbine arm Blade has been installed in the centre of Hull, the first major artwork commissioned to mark its year as the UK's city of culture. Despite only being one week in, it has already brought major benefits to the long-neglected Yorkshire city.
The opening project, Made in Hull, in which light and sound installations were projected on buildings across the city every evening, brought in 342,000 visitors. It made Hull far and away the most visited attraction in the UK last week, beating both the British Museum and Tate Modern. Conceived by Bafta-winning Hull film-maker Sean McAllister, it saw 12 different light and sound projections set up around the city, which spoke to everything from the city's fishing past and flattening in the war, to football, nightlife, and, in a city which 68% voted to leave Europe, the vital role immigration has played over its history.
The concept of turning an industrial rotor blade into a piece of public art was the work of artist Nayan Kulkarni. The Blade is the first B75 wind turbine blade to come off the production line at the nearby Siemens factory, which opened in Hull in November, creating 1,000 new jobs and providing a much needed economic boost to the area.
But Kulkarni had not expected the blade to be so aesthetically graceful. "I knew about its physical size and form, and the meaning it would have when you put it in a public space like this, but what I didn't realise was that these turbine blades were beautiful and slippery and organic. As soon as you take it out of the factory context it becomes something arabesque and sculptural, almost like a whale bone or a fish. In the factory they call them wings."
The Blade is the first of the city's Look Up art commissions and will remain in the square until March.
Via The Guardian
The Devastation of Nimrud
Last November the marauding forces of ISIS were finally driven from Nimrud, Iraq's priceless trove of Middle East history and relics situated south of Mosul. They left behind a barbaric pile of rubble after more than a year of systematically tearing apart the ancient palaces, temples and cultural treasures of what had been the capital of the Assyrian empire nearly three millenniums ago.
With ISIS gone, looters have now descended on the broken remains, gleaning the scorched earth for valuable fragments. No one is protecting the ancient grounds.
Nimrud is not alone: The terrorists' commitment to stamping out history and creating a fanatical caliphate has destroyed dozens of other irreplaceable sites.
In Nimrud, ISIS leaders proudly made a high-definition, seven-minute video of their organized attacks by jackhammer, bulldozer and dynamite on a civilization dating to 879 B.C.
"Whenever we take control of a piece of land, we remove the symbols of polytheism and spread monotheism in it," a jihadi declared to the video camera in Nimrud, after which a massive detonation leveled the palace of King Ashurnasirpal II of Assyria — which, until ISIS, had managed to stand since the ninth century B.C., despite repeated bouts of warfare.
AA Milne letter features in Imperial War Museum's anti-war show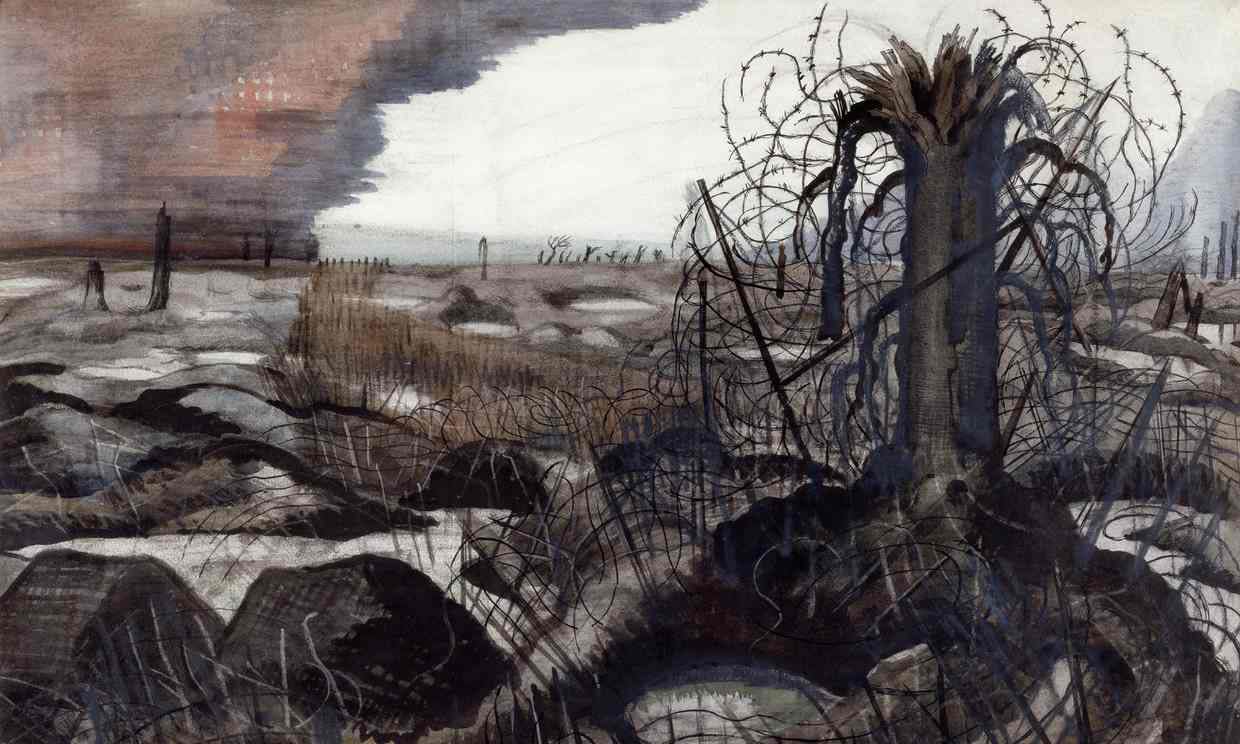 A letter written by AA Milne in which he outlines his growing struggle with pacifism in the face of the rise of Hitler in the 1930s is to go on display for the first time. The Imperial War Museum in London, which marks its centenary this year, has announced it is to stage the first major UK exhibition exploring the anti-war movement.
The Milne letter has been retrieved from its vast collection of documents and reflects the conflict felt by many pacifists who had experienced the horrors of the First World War and earnestly hoped "never again". In his letter, Milne declared himself a "practical pacifist", writing: "I believe that war is a lesser evil than Hitlerism, I believe that Hitlerism must be killed before war can be killed."
He was a pacifist leading up to the First World War but signed up voluntarily and was offered a commission by the Royal Warwickshire Regiment.
Milne was discharged from the army in 1919 and began his career as a children's author, leading to the publication of Winnie the Pooh in 1926.
The Milne letter is among a number of rare items going on display for the IWM exhibition. There will also be First World War artworks Wire (1918) by Paul Nash and Paths of Glory (1917) by CRW Nevinson. From the more recent past, the exhibition will include the original "blood splat" artwork and posters which David Gentleman designed for the Stop the War Coalition; and Peter Kennard and Cat Phillipps' photomontage Photo Op (2007) which depicts Tony Blair taking a selfie against the backdrop of a devastating explosion.
People Power: Fighting for Peace is at IWM London between 23 March and 28 August.
Via The Guardian