Opening of the 1913 Armory Show
Art on This Day

Clare Briggs, The Original Cubist, New York Evening Sun, April 1913
On this day back in 1913, the now famous Armory Show opened its doors. The exhibition displayed works of artists who would later become some of the most influential painters of the early 20th century. As the show introduced modern American art to the broad public, it became an important event in the history of American art. American artists were now able to grow more independence and created their own artistic styles, instead of just looking up to the experimental European artists.

The 1913 show was organized by lawyer John Quinn, French author Henri-Pierre Roche and the Association of American Painters and Sculptors. Quinn used his influence to convince Congress to allow them to stage a controversial large exhibition of modern art in America at "the Fightin Irish Armory" in New York. The exposition ran until 15 March and then went on to the

Art Institute Of Chicago

and

The Copley Society of Art

in Boston.

John T. McCutcheon, How to Become a Post-Impressionist Paint Slinger, New York Evening Sun, March 1913
As Avis Berman beautifully stated back in 2000 in the publication As National as the National Biscuit Company; The Academy, the Critics, and the Armory Show, Rave Reviews American Art and Its Critics, 1826-1925, the show challenged the aesthetic ideals, policies and the authority of the National Academy of Design. Exhibition and sales opportunities were expanded and the general interest and public knowledge about modern American art grew considerably.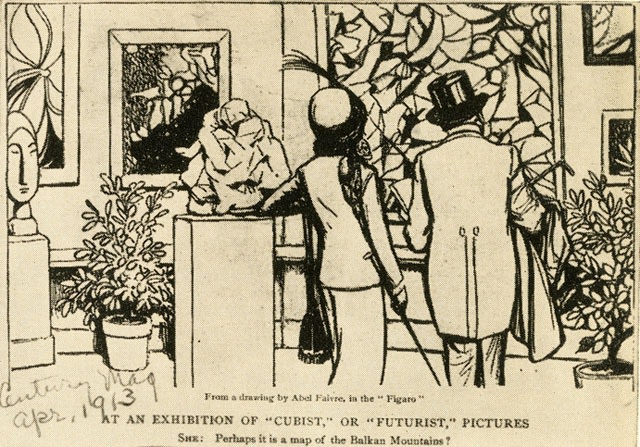 Abel Faivre, At an Exhibition of 'Cubist' or 'Futurist' Pictures, The Century, April 1913
The show included works by Marcel Duchamp, Gustave Courbet, Paul Gauguin, Vincent Van Gogh, Francisco Goya, Edward Hopper, Henri de Toulouse-Lautrec, Alfred Sisley or James Abbott McNeill Whistler. A staggering 1,300 artworks by over 300 avant-garde European and American artists were displayed and Impressionist, Fauvist and Cubist works were represented. The image above is just one of the dozens of cartoons that were published about the Armory Show. It truly was received with a lot of criticism and press wrote about it with accusations of insanity, anarchy or immorality. Theodore Roosevelt even declared that these modern works weren't art. Yet, in the art world, the show was welcomed with more enthusiasm and the purchase of Paul Cézanne's Hill of the Poor by the

Metropolitan Museum of Art

signaled the integration of modernism into the New York museums.
Today, there is an annual art fair in New York carrying the same name. The Armory Show runs from 2-5 March 2017 and describes itself as the cultural destination for 20th and 21st century art works.