Art in Print
A glimpse into the private world of a prolific art collector: the Alicia Koplowitz collection gets a rare airing in Paris

Musée Jacquemart-André in Paris is about to reveal an extensive exhibition showcasing a collection of one of Spain's most profilic businesswomen, Alicia Koplowitz. Comprising 57 artworks collected over a period of 30 years, the show will offer a glimpse into works ranging from The Old and Modern Masters to modern art masterpieces by the likes of Picasso, Modigliani, Schiele and Rothko, amongst many others, and will also provide an insight into the collector's eclectic style.
Laura Oldfield Ford: Alpha/Isis/Eden
The Showroom

has opened its doors to a new solo show by the Yorkshire-born, London-based artist Laura Oldfield Ford, known for her often politically-oriented work shedding light on the urban areas of the UK. Offering a strong connection between the gallery's location and pieces comprising the show, the exhibition features an installation of collages incorporating drawings, text and materials such as plywood and Sitex, and soundwork rich in voices telling personal stories of inhabitants of the area. The show came to life through the artist's exploration of the Edgware Road surroundings and collaboration with local community groups, leaving viewers with an immersive experience reflecting the "pre-utopia dystopia" yet to reach the still relatively ungentrified region. Laura Oldfield Ford: Alpha, Isis, Eden is on show until 18 March.
Watercolour by mysterious British artist goes on show after 50 years in shadows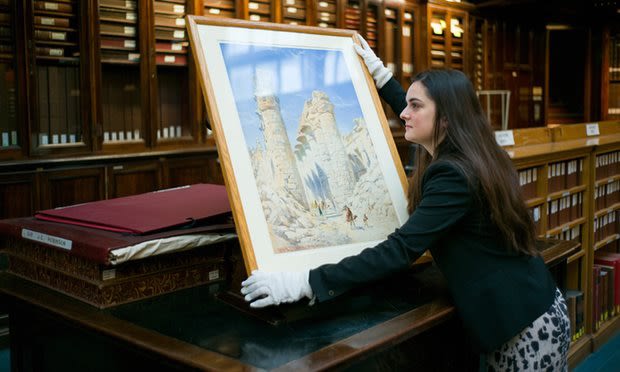 Ten years ago, Kim Sloan, the curator of the British department of the

British Museum

's collection of prints and drawings, discovered a watercolour of a notable size while searching for the original frames for Turner's paintings. The watercolour masterpiece illustrates the view of the Egyptian Karnak temple complex as seen in 1868, and was brought to life by an artist whose identity and life is surrounded by more mystery than established facts. Until very recently the watercolourist, now named Henry Stanier, was referred to as a "British (?) artist" in an auction; following the unexpected finding in a corner of the British Museum, Sloan embarked on an investigation to find out more about the Stanier, establishing that the intiially Birmingham-based artist moved to Granada for health reasons, where he further nurtured his passion for painting. His watercolour of the Egyptian temples is suspected to have been based on a series of on-site sketches later developed in the studio, however details of the artist's travels to Egypt are unknown. The piece will be exhibited for the first time since its completion, and will accompany landscapes by

James Whistler

,

Paul Nash

and many other watercolour pioneers as part of the Places of the mind: British watercolour landscapes 1850–1950 show opening at the British Museum this Thursday.