Jules Olitski
Art on This Day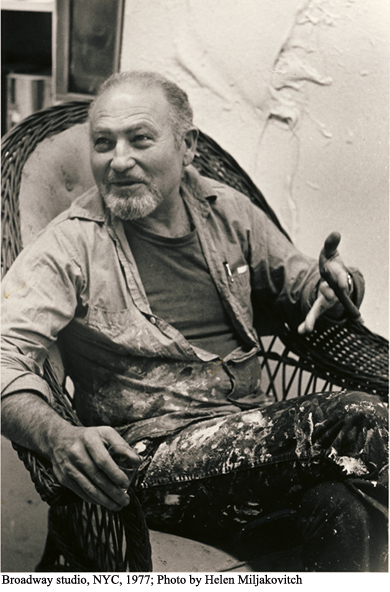 Jevel Demikovski (known as Jules Olitski), painter, printmaker, and sculptor, was born on this day, 1922 in Snovsk, Russia. Two years after his birth and the execution of his father by the Soviet government, his family moved to the United States and settled in New York. That is where Olitski attended the National Academy of Design and Beaux Arts Institute. His art education further continued in Paris (at the Ossip Zadkine School and the Académie de la Grande Chaumiére) where his first solo show was exhibited at Galerie Huit in 1951.
His simple but thoroughly thought-out compositions of circular shapes began to dominate as Olitski decided to focus exclusively on colour and avoid any figurative and narrative motifs or personal expression in his paintings. The artist experimented with different ways of applying diluted paint, sometimes with rollers or sponges, in order to 'stain' the canvases, so that the paint would soak in and dry on its own. In 1965 Olitski presented new, pioneering approach in his works - he began to use industrial spray guns. This technique enabled him to produce paintings that drew viewers' attention to the qualities of pure colour and to achieve perfectly seamless transitions of pigment. The subtle changes in intensity, tonal gradation and illusions of misty layers, floating in the air rather than being painted directly by the artist, seem to lack any traces of the human hand.
Olitski is often credited for the development of the so-called Color Field movement. As it is characterized by emphasis on the large fields of monochromatic pigment and devotion to pure abstraction, his works from mid-1960s, such as Patutsky in Paradise (1966), perfectly encompass these ideas. Even though Olitski was not as popular as some of his contemporaries associated with this movement, his 'spray' pieces are said to be some of the most important produced within the Color Field.
During 1960s his works were exhibited all over the globe and, in 1966, Olitski himself was selected to represent the United States at the Venice Biennale. What is more, in 1969 he became the first living US-born artist to be given a solo exhibition at the Metropolitan Museum of Art by showcasing a series of spray-painted sculptures.
Olitski died on February 4th, 2007 in New York.