Milton Caniff
Art on This Day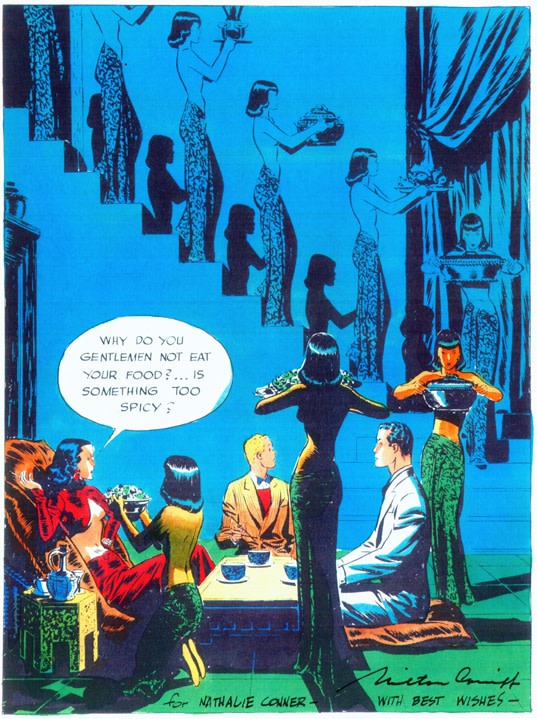 American cartoonist Milton Caniff died on this day in 1988. He was most famous for the action- adventure comic strips "Terry and the Pirates" and long running American comic strip "Steve Canyon". Caniff's passion for drawing cartoons started when he was in kindergarden, when his dad would bring home scrap paper and he started drawing identifiable human figures. Growing up, Caniff drew cartoons for the Boy Scout page in The Dayton Journal- Herald and later went on to study fine art at Ohio State University. When he joined the Sigma Chi fraternity, he began illustrating for The Magazine of Sigma Chi and The Norman Shield. Graduating in 1930, Caniff started working at the Columbus Dispatch where he met cartoonists Billy Ireland and Dudley Fisher. Ireland later told Caniff, after his failed attempt at an acting career to "Stick to your inkpots, kid, actors don't eat regularly".
Caniff began working on his most famous comic "Terry and the Pirates" in 1934, when he was hired by the New York Daily News to illustrate a new strip for the Chicago Tribune New York News Syndicate. The comic was produced after the Daily News publisher Joseph Medill Patterson expressed his desire for an adventure strip set in the mysterious Orient. Not knowing much about China, Caniff started researching the nation's culture and history and discovered that there were many families living in the country for whom piracy was a way of life passed down from many generations. Filled with comedy, sex and suspense, the comic earnt Caniff a following of 30 million readers and by 1946, he was making $75,000 a year and "Terry and the Pirates" was appearing in more than 300 newspapers.
Although, "Terry and the Pirates" was very popular, Caniff was disheartened by the fact that he didn't own the strip. This is when he was recruited by Marshall Field, the owner of the Chicago Sun Syndicate, where he created the new comic strip about an Air Force colonel "Steve Canyon".
Caniff based a lot of his characters on friends, and also drew inspiration for one of his most memorable cartoon characters, "The Dragon Lady" on actress Joan Crawford. The character like many of his others, was very controversial for being sexualised, promiscuous and seductive.
Milton Caniff was one of the founders of the national Cartoonist Society and was the first person to receive the Society's Cartoonist of the Year Award for his work published during 1946 and this included "Steve Canyon" and "Terry and the Pirates".
He died of lung cancer on the 3rd of April 1988 at his home in Manhattan and was buried in the Mount Repose Cemetery, Harvestraw, New York.