John Singer Sargent
Art on This Day
Carnation, Lily, Lily Rose, 1885-86 by John Singer Sargent at the Tate London
On this day in 1925, American portrait painter John Singer Sargent passed away. (January 12, 1856 – April 14, 1925) Born in Italy to American parents, Singer became one of the most succesful portrait painters of his era, as well a respected landscape painter and watercolorist. He was trained in Paris under Emile Auguste Carolus-Duran and moved to London a few years after. Sargent lived in Europe most of his life and was only truly recognized by art historians by the late 20th century.
His exceptional ability to draw with a brush stood him out of the crowd. His commissioned works were recognizable with their grand manner of portraiture whereas informal studies showed a hint of impressionism. later on in his career, he became to prefer mural paintings and working en plein air over the formal portrait work.
An attempt to study at an art school in Paris failed due to reorganisations so Sargent went on to study with an artist-tutor instead. He combined this with art classes at the Ecole des Beaux-Arts . Carolus-Duran, a progressive young French and very successful artist, had a pivotal influence on the Sargent's evolution from 1874 - 1878. Sargent's talent as well as his excellent French skills, made him a popular and admired man. Even though at first, his main interest lay in landscapes, it was Carolus-Duran who would influence him to go into portraiture.
In 1879 at age 23, he officially started his career through a portrait of Carolus-Duran, hereby thanking and respecting his teacher, showing what he was capable of doing and announcing that he was available to book for portraits. Sargent left Carolus-Duran's atelier and visited Spain to study Velasquez, one of his great influencers. Upon his return to France, he quickly received several commissions and his career was launched.
In these early years, he mainly painted full-length portraits of women. Portrait of Madame X was his personal favorite and is now considered to be one of his best works. It received such negative feedback in Paris however, that it prompted his move to London. Self-confident as he was, this work was not a commission. He found Madame Pierre Gautreau to be particularly beautiful and assumed she would appreciate him painting her portrait. It took him well over a year to finish this famously daring and sensual portrait. Intended as a consolidation of his position as a society painter, it resulted in a scandal instead.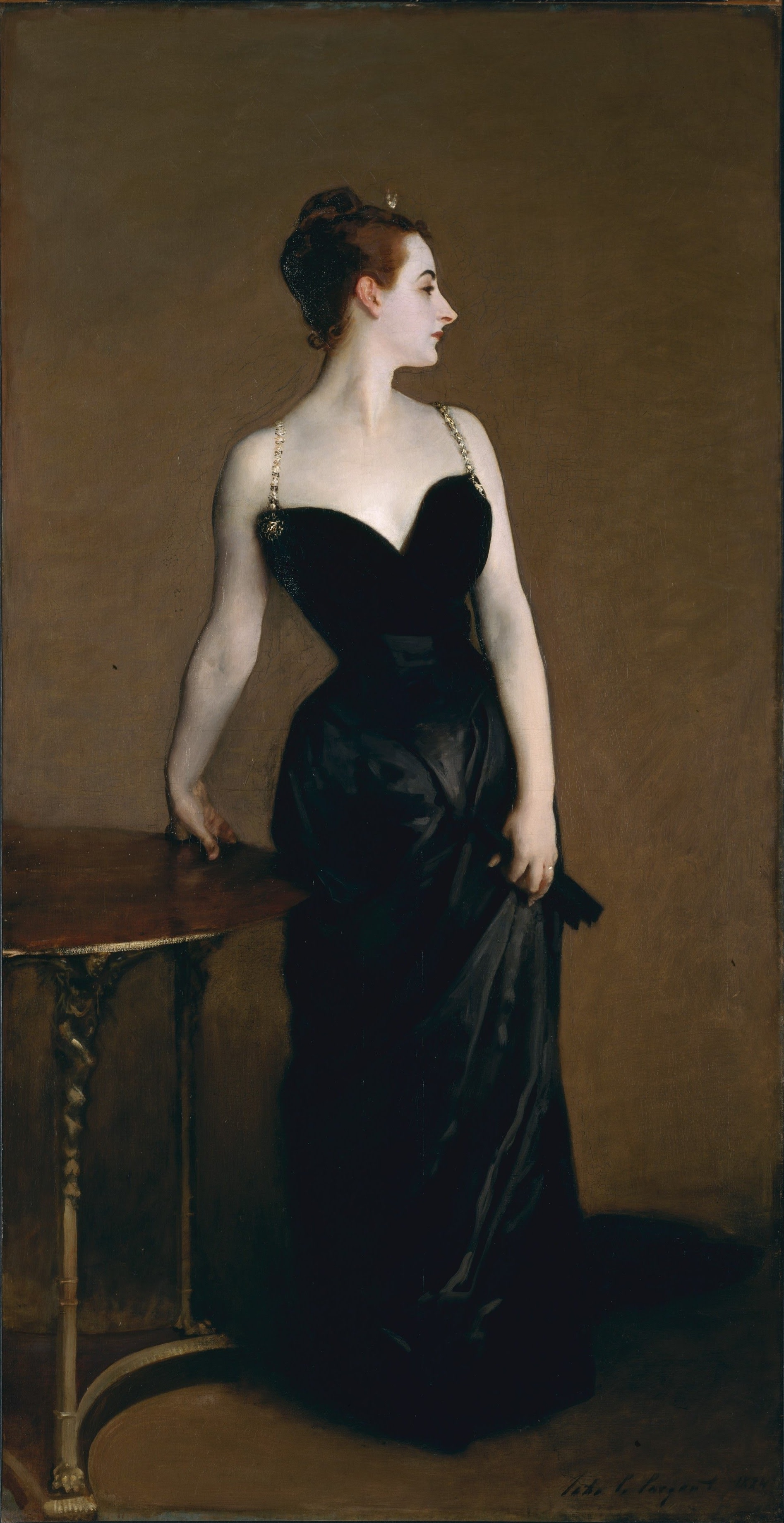 Portrait of Madame X, 1884 by John Singer Sargent
Sargent had been intending to leave for London for a few years and finally made the move in 1886. There, his approach to painting was not received well at first, but with the help of Mrs. Henry White, he soon gained admiration of patrons and critics. When not in his studio, he spent much of his time painting outdoors in the English countryside. He continued to travel back to France often, visiting Monet at Giverny for example. Sargent's success kept growing, at one point even been called ' The Van Dyck of our times'. The artist closed his studio at the age of 51 one and converted to painting landscapes for the remainder of his life.
An exhibition on John Singer Sargent's watercolours is opening at the Dulwich Picture Gallery this summer.