Art in Print
David Hockney exhibition is officially the most popular Tate Britain show ever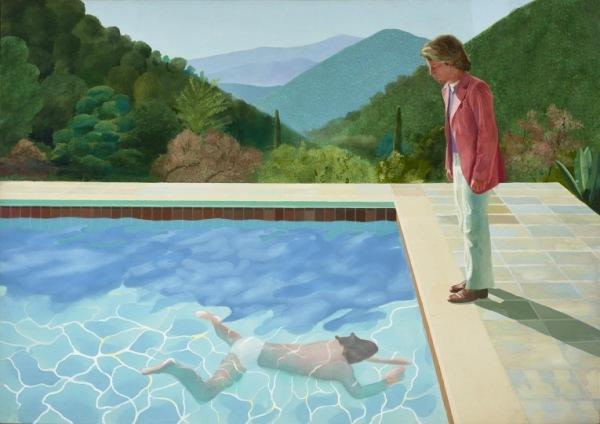 The David Hockney exhibition, which took place at the Tate Britain from the 9th of February to the 29th of May 2017, has become the gallery's most popular show to date. 478,082 people went to the exhibition during its four-month span and more than a hundred of works by the living artist were showcased. These were drawn from arts institutions and private collections worldwide and included sketches, paintings, and his recent drawings created on an iPad. The retrospective was also a well-anticipated event with a sale of 35,000 advanced tickets before its official opening in February. Subsequently, the gallery's opening hours were extended in order to meet this high demand. Considered to be the home of British art, it seems fitting that the Tate Britain would be adamant on representing one of its most popular British artists. With so many works at hand, Hockney got to participate in the selection process, which included sceneries of his native Yorkshire as well as portraits of his friends and family. Received with high praise and excellent reviews, this retrospective will also take place at the Centre Pompidou in Paris from the 21st of June to the 23rd of October 2017. It will then reach its final destination at the Metropolitan Museum of Art in New York, where it will be on view from the 21st of November 2017 to the 25th of February 2018.
Via: Evening Standard
Watercolour of Rossetti's long-haired muse to be auctioned in July
A watercolour portrait of Fanny Cornforth, the mistress of British artist Dante Gabriel Rossetti, will go on sale at Sotheby's London in July . The painting is estimated to fetch up to £600,000. Importantly the sitter set the trend for Rossetti's fair maidens with long hair and is unlike the working-class women picked up by the Pre-Raphaelite painters to pose as models. On the contrary, Cornforth was the daughter of a blacksmith and was both outspoken and bold. She became Rossetti's housekeeper but was unliked by his inner circle who nicknamed her "the Elephant" due to her round figure. In his rendering of her, Rossetti modelled her after Lilith. A poem on this mythological figure is featured on the back of the frame in the artist's handwriting. The artist had also worked on an oil version of 'Lady Lilith' in 1864, which can be found at the Delaware Art Museum, and was destined to one of the artist's most valuable patrons. Unfortunately he did not like Fanny Cornforth's looks, which Rossetti therefore replaced with the facial features of Alexa Wilding. His original vision of his muse survives in two watercolour versions, one which is owned by Japanese collectors since 1988 and will soon be auctioned.
Via: Guardian
After Decades, a 'Bittersweet' Resolution Over Lost Art

An 18th-century oil painting entitled 'La Punta Della Dogana e San Giorgio Maggiore' is brought back from hiding after decades of being lost to the hands of the Nazis. The work was purchased in 1937 by a Jewish couple, Heinrich and Anna Maia Graf, and was looted by 1942 whilst they fled to New York with their twin daughters, Erika and Eva. The family spent 70 years trying to recover their painting but with no success until now when it came to be known in the hands of a private collector who refused to return the work. After an initial restitution settlement, between the heirs and a trust working on behalf of the now-deceased owner, the work will be put up for auction at an Old Masters sale taking place at Sotheby's London in July. The painting is estimated to be worth between $650,00 and $905,00 and the proceeds will be shared between the two parties at the end of the sale. Like many other looted paintings during the outbreak of World War II, this story reinforces the problems regarding restitution and ownership rights. Sadly, most works are not returned to their rightful owners but are settled for instead in order to provide some form of compensation to both heirs and collectors who have purchased art in good faith.
Via: The New York Times