Art in Print
Cornelia Parker, interview: I am an artist, so it's all fake news
At the beginning of May this year, Cornelia Parker was named the nation's official Election Artist for the 2017 General Election. She was selected by the Speaker's Advisory Committee on Works of Art to observe the 2017 election to produce a unique work of art in response.
She created an Instagram feed and began taking photos and assembling press to post. She calls this stage the 'sketchbook' for her final work, which is set to appear in September. Her feed is invigorating, and for Parker, the media is as much part of the election story as the politicians and voters. She has posted numerous newspaper front pages, including the Daily Mail and the Standard's critiques of Theresa May's campaign. The most predominant feature in all her posts however, are the witty play on words she uses. Parker has also been interested in drawing inspiration from the political parties' colours, and has often posted photos of road signs, traffic lights and even airport bins, which are quirky metaphors for the parties' fortunes.
Cornelia isn't sure if she will continue her feed after her artist election role is over. Although she has a few ideas for a final piece, she won't be making a final decision on what the final piece will be until after the results as they can go either way.
Via The Evening Standard
The American conceptual artist Gleen Ligon whose work explores race, language, desire, sexuality, and identity has drawn inspiration from Ellsworth Kelly's painting Blue Black (2000) for his latest project. Ligon has organised a large scale exhibition at the Pulitzer Arts Foundation in St. Louis where the 28-foot-tall Kelly work composed of two monochrome aluminium panels painted blue and black is permanently installed. The show which opens of Friday is comprised of 54 works by over 42 artists, including Ligon himself in what he hopes will be a 'noisy' conversation about power dynamics, spirituality and the blues state of mind.
The 57 year old artist recounted how he drew inspiration from Kelly's work on his visit to meet with Pulitzer's director Cara Starke "When I was in the building, the Ellsworth Kelly is massive. I had this very funny aural hallucination where I kept hearing Louis Armstrong's voice singing 'What did I do to be so black and blue?'"
After that, a list of artists who have used this combination of colours started forming in his head. Ligon has gathered a diverse range of works from Andy Warhol, Joan Miro, Chris Ofili and portraiture by Cecily Brown and Jack Whitten.
The content of Glenn's work and the show is incredibly meaningful in the context of St. Louis being the epicentre of the Black Lives Matter movement.
Via The New York Times
Royal Academy exhibition departs from usual performance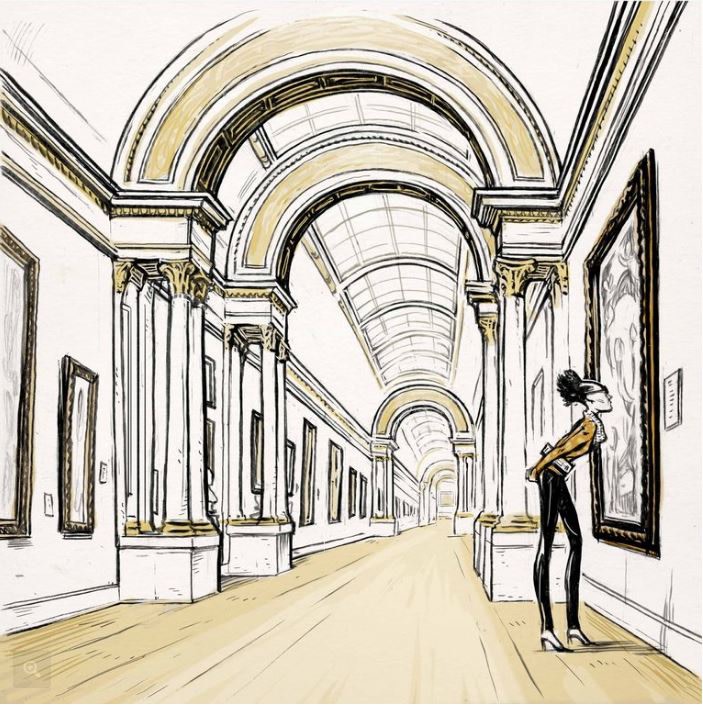 Performance art makes its debut at the Royal Academy Summer Exhibition this year, with curators of Britain's oldest open submission art show expanding the types of work to go on display.
Held every year since 1769, the summer show invites amateur as well as celebrated artists to submit work for consideration by a panel of Royal Academicians. Visitors can buy the works in the show, with 30 per cent of the cost used to fund the RA Schools, its postgraduate fine art programme.
Among the paintings, prints, photographs and sculptures crowding the Piccadilly galleries, visitors will for the first time see three performance pieces at selected times. "Cantilever Kiss", by India Mackie and Declan Jenkins, sees each bound into a steel A-frame that can be manipulated under "extreme physical exertion"; they will meet for a horizontal kiss.
Via: Financial Times