Joseph Stella
Art on this Day
"I was thrilled to find America so rich with so many new motives to be translated into a new art. Steel and electricity had created a new world." – Joseph Stella
On this day, Italian-born, American painter, Joseph Stella was born (13th June 1877) in Muro, Lucano, Italy. He is known for his depictions of industrial America—more particularly for his paintings of the Brooklyn Bridge in New York—and is associated with the American Precisionist movement, which emerged after World War I.
He first came to New York in 1896 in order to study medicine and follow in the foot-steps of his older brother, Antonio Stella. However, he abandoned his medical pursuit and shifted to art studies at the Art Student League and the New York School of Art under the pseudonym of William Merritt Chase. His first works depicted city slum life and he soon developed an interest in immigrant and ethnic life. In 1905, he started out his professional career as an illustrator, in which his realist drawings were published in various magazines, but later returned to his native land.
By 1911, he had moved to Paris, where Fauvism, Cubism, and Futurism predominated over all other art movements. There, he met other painters and soon became associated with the Futurist movement, which is reflected in his art of that period. In 1913, he returned to New York and befriended contemporaries such as Alfred Siteglitz, Walter Arensberg, Albert Gleizes, and Marcel Duchamp. As a matter of fact, both Stella and Arensberg had accompanied Marcel Duchamp to purchase his urinal, which would later constitute his ready-made titled 'Fountain'.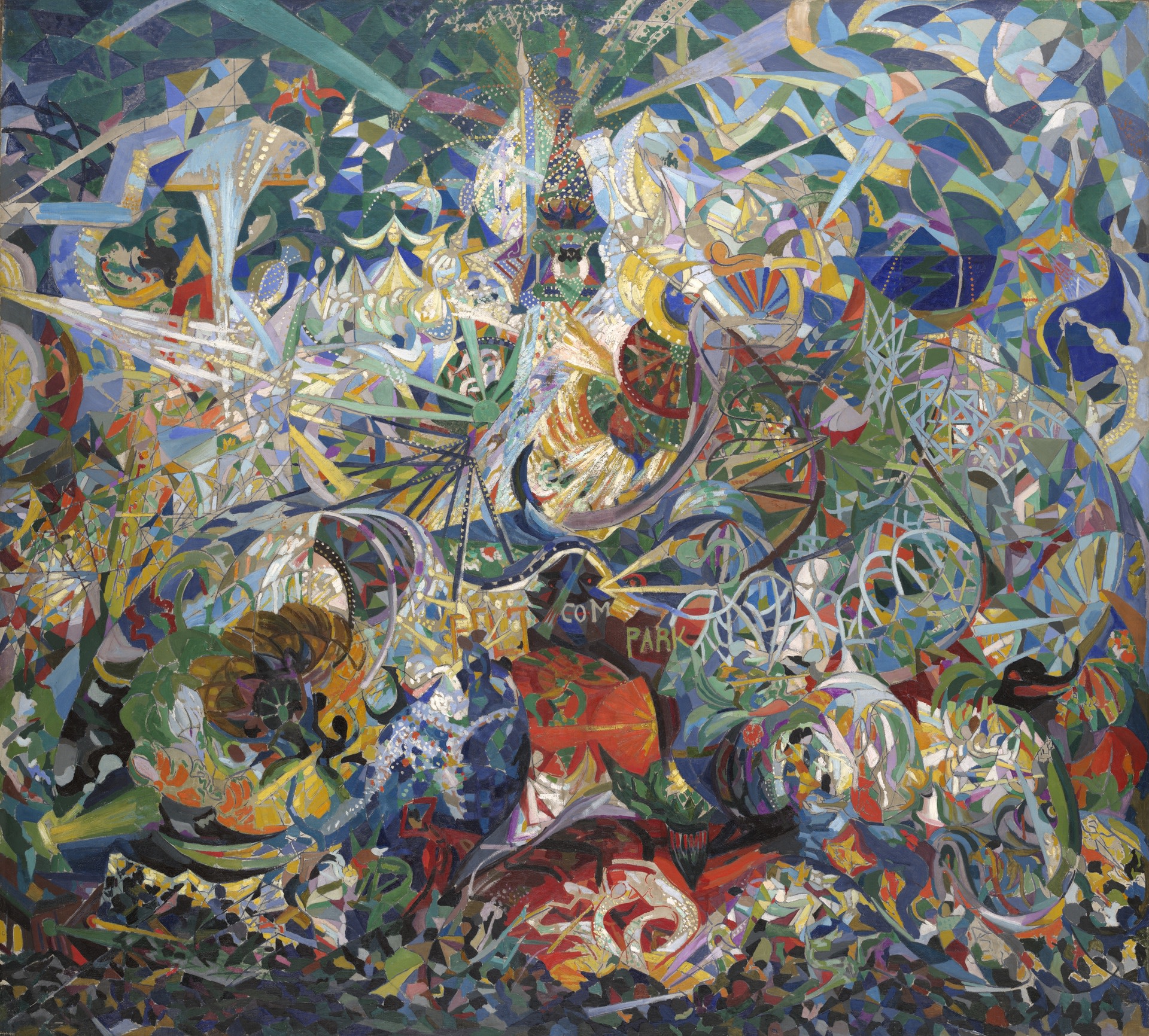 His earliest Futuristic works include Battle of Lights, Coney Island (1913-14), er Rosenkavalier (1914), and Spring (The Procession – A Chromatic Sensation) (1914–16). These illustrate his openness to new trends and, more importantly, are a result of his time in Europe where his distinctive style and use of bold colours as well as sweeping lines flourished. He gained critical acclaim with these types of works, which first came to the public eye during the Armory Show of 1913, and validated his status as an influential figure of the art world. However, he was also heavily criticized by conservative critics who believed that the Modernist approach to painting was threatening.
In the 1920s, Stella became mesmerized by the geometrical shapes and lines of lower Manhattan. These features culminated in his portrayals of the Brooklyn Bridge, which can be seen as a variation on a theme, and are rendered dynamic through the use of his sweeping lines. They allude to a vibrant and bustling New York in the roaring 20s, but also symbolise stability and solidary.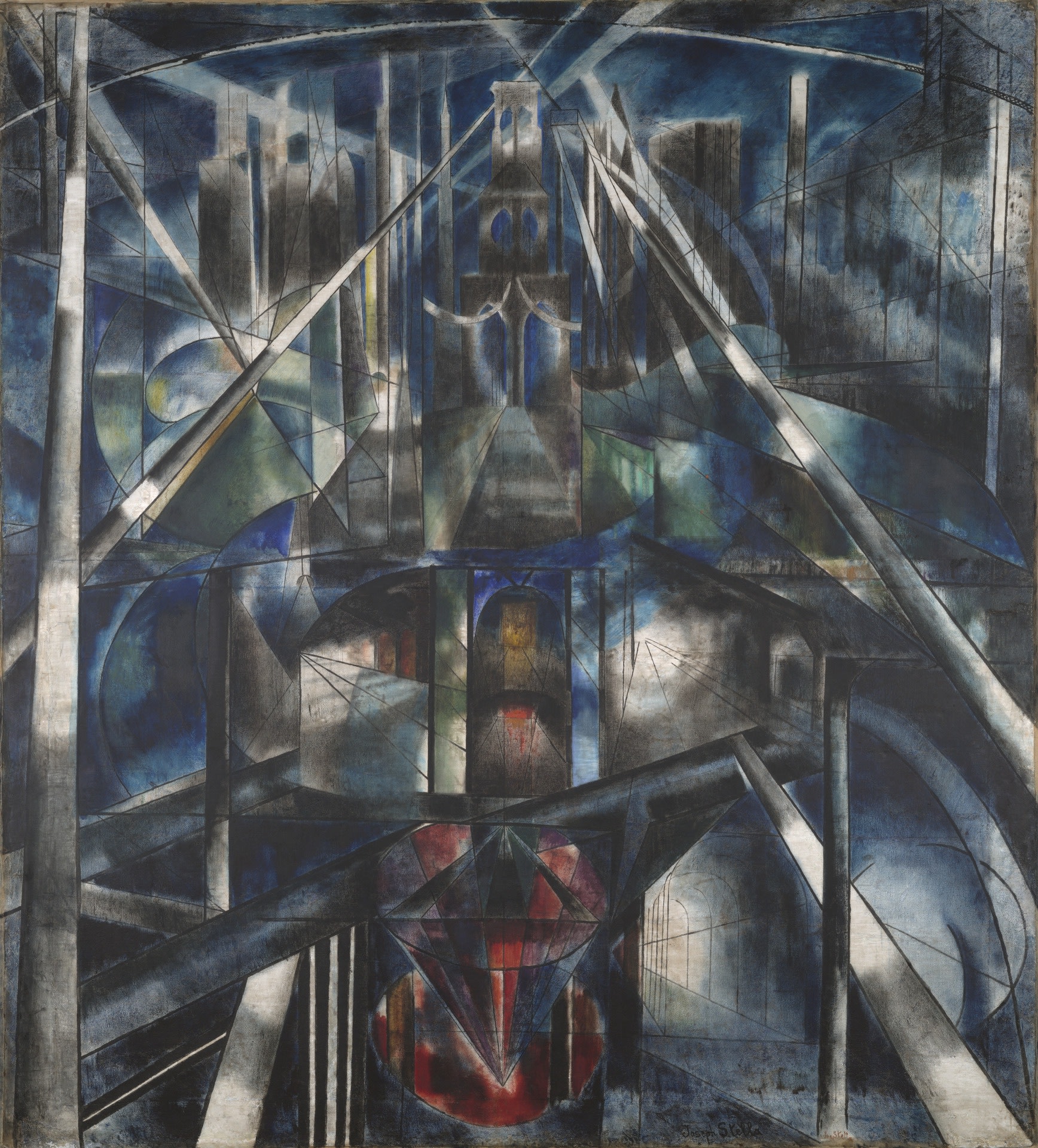 One of his famous depictions of the bridges and New York`s cityscape—entitled New York Interpreted (The Voice of the City)—can be viewed at the Newark Museum. It further reinforced the idea that industry was becoming the centre of modern life, as opposed to religion. Executed as a five-storey panel and patterned after a religious altarpiece, it is striking with its replacement of saints by Stella's beloved bridges and his admiration for the architecture of New York.
Towards the 1930s, Stella had moved on to Surrealism and abandoned his initial modes of painting completely. Later he was no longer aligned with any of the movements he had popularized, which ultimately resulted in being problematic for his career. The works he produced later in life were lesser known, such as his collages of discarded paper, wrappers, and urban waste. This still, however, exuberated strong craftsmanship, akin to his earlier works. Unfortunately, all his later were less well-received and by the 1940s he succumbed to a heart failure.
Today, Stella's works can be found in the following arts institutions: Baltimore Museum of Art; Brooklyn Museum; Chicago Art Institute; Hirshhorn Museum; Indiana State University Art Collection, Museum of Fine Arts, Boston; Museum of Fine Arts, Houston; Museum of Modern Art, New York; Newark Museum; Phoenix Art Museum; Reynolda House Museum, North Carolina; Sheldon Museum of Art, University of Nebraska–Lincoln; Walker Art Center; Whitney Museum of American Art; and Yale University Art Gallery.