Pelham's guide to Frieze London 2018
Frieze 2018
Turner Prize
Tate Britain
Sept 26 - 6 January 2019
Tate Britain plays host to the annual celebration of the best of contemporary visual art and this year marks the first time the shortlisted works exclusively consist of film and video pieces. All of the works by nominees Naeem Mohaimen, Charlotte Prodger, Luke Willis Thompson and Forensic Architecture share a sharp take on contemporary politics and global current affairs.
Mohaimen's pair of films — Tripoli Cancelled and Two Meetings and a Funeral — meditate on airport-based loneliness and the power struggle between the Non-Aligned Movement and the Organization of Islamic Cooperation respectively.Using films, installations, and essays, Mohaimen dissects the period after the Second World War, the effects of decolonisation, and the rewriting of narratives that conjure memories of political utopias.
Prodger's work, BRDIGIT, explores how experience and solidarity have shaped the artist's queer identity, language and technology. Shot entirely on iPhone, Prodger's work combines moving image with sculpture, writing and performance.
Forensic Architecture — a multidisciplinary collective of architects, filmmakers, lawyers and scientists— are screening The Long Duration of a Split Second. Headed by the lecturer, theorist, and architect, Eyal Weizman, Forensic Architecture uses the built environment as a starting point for explorations into human rights violations. With their video piece, the collective particulary examine the allegations of state and corporate violence in Middle East.
The final segment of the show is rounded off with three films by Luke Willis Thompson that all reinterpret chapters of history where violence has been enacted against black bodies.
The prize winner is announced on Tuesday 4th December and the ceremony will be broadcasted live on BBC television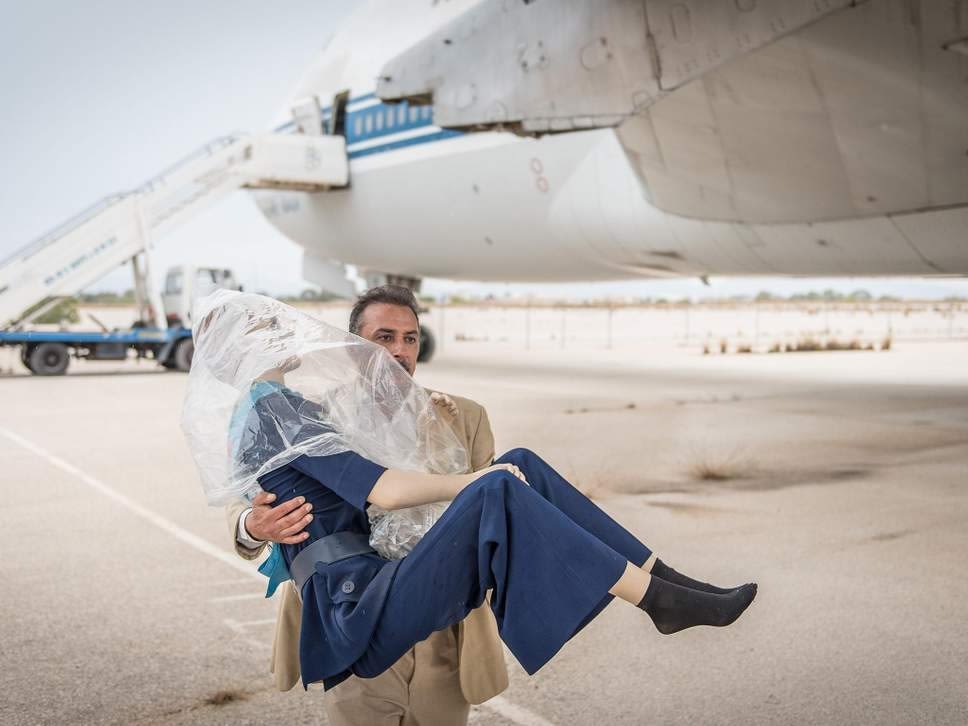 Naeem Mohaiemen's 'Tripoli Cancelled' (2017) runs for 93 very long minutes ( Dimitris Parthimos
Hayward Gallery
Space Shifters
26 Sep - 6 Jan 2019
The 20 works on display at the Hayward gallery participants include Jeppe Hein, Roni Horn, Anish Kapoor, Yayoi Kusama and Alicja Kwade who's Weltenlinie - which was a popular feature last year at the Venice Biennale - is shown for the first time since its premiere.
Most artworks shown are constructed from reflected and translucent materials such as glass, acrylic and polyester resins, stainless steel, polished bronze and even engine oil - a jaw-dropping technical accomplishment. The aim of the exhibition is that the sculptures will enable us to see the surroundings in new and unexpected ways.
Larry Bell, Standing Walls
PAD London
Berkley Square
1 - 7 October 2018
Hemmerle - Stall A10
Located in Mayfair, PAD (the Pavilion of Art and Design), is the leading fair for 20th century art, design and decorative arts globally. Prominent galleries and artisans from all the world come together to showcase the latest developments in design by exhibiting their iconic and exciting works. Exhibiting once again this year will be Hemmerle. Founded in 1893, Hemmerle is a fourth generation family run ateliers. Today, Christian Hemmerle runs the business his great-grandfather established 125 years ago, along with his wife Yasmin and parents Stefan and Sylveli Hemmerle. Renowned for its dedication to craftmanship, exceptional quality, innovative material combinations and bold, unostentatious creations – Hemmerle's PAD display is not to be missed.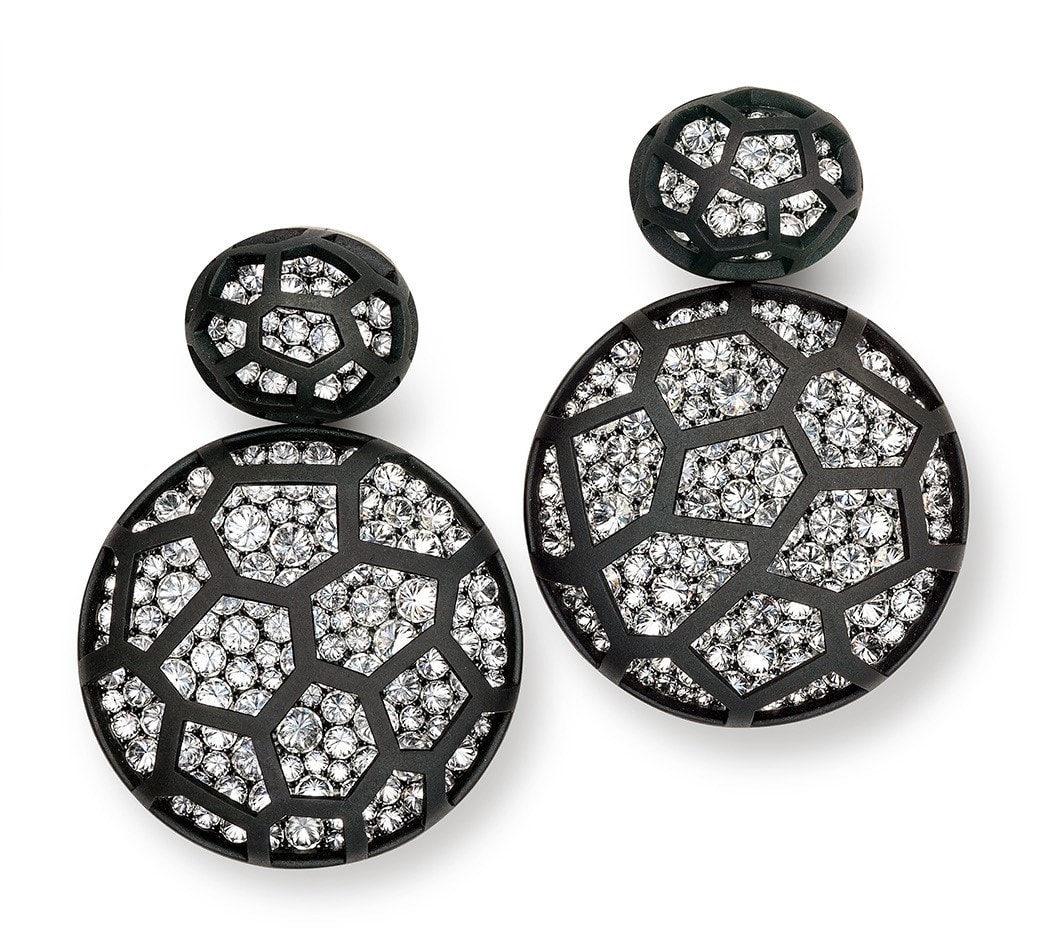 Hemmerle earrings
1-54 London
4 – 7 October 2018
Gallery 1957 - Stall G17
Founded by Touria El Glaoui in 2013, 1-54 London is now the leading international art fair dedicated to contemporary art in Africa and the wider African diaspora. Drawing reference to the fifty-four countries that constitute the African continent in its name, 1-54 is a sustainable and dynamic platform that is engaged in dialogue and exchange.
This year, Gallery 1957 will be exhibiting at 1-54 in London. Based in Accra, Gallery 1957 is committed to promoting contemporary Ghanaian and West African artists and offering both local and international audiences the overdue opportunity to learn more about art of this region. The Gallery 1957 stall at 1-54 will be showcasing the works of Florine Demosthene and Godfried Donker.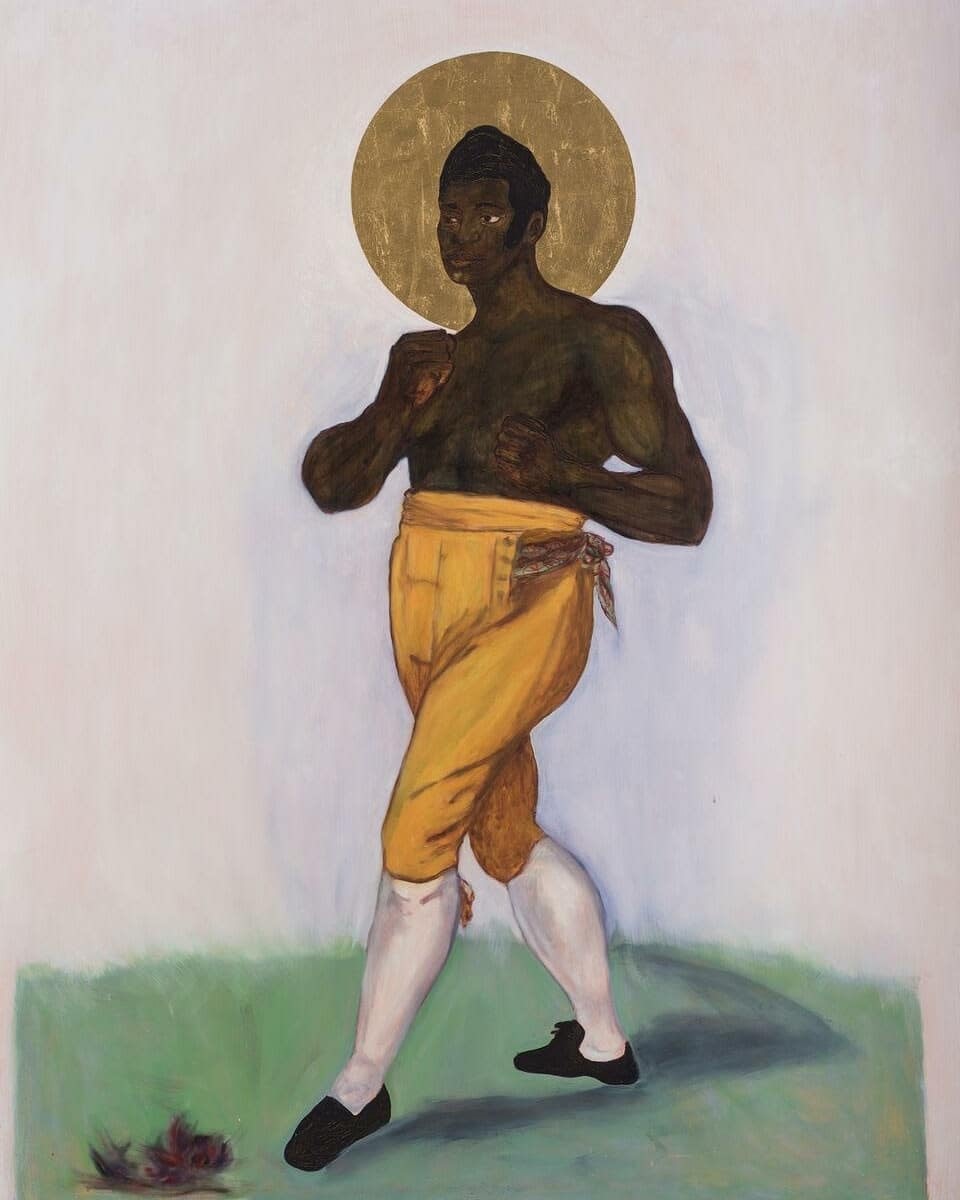 Godfried Donkor, St Daniel Mendoza, 2010