Art in Print
Fourth Plinth shortlist: bids include drone on a dollop of cream
One of the sculptures will be chosen to replace David Shrigley's Really Good sculpture next year is a giant swirl of whipped cream topped with a drone to spy on crowds in Trafalgar Square. This piece is among the final five works of art shortlisted. Others included an Assyrian winged bull guarding the gates of Nineveh, and an invisible figure robed in ermine and a precarious-looking construction with a ladder balanced on top of oil cans sitting on a truck were among the ideas put forward on Thursday by artists bidding
The ice-cream sculpture by Heather Phillipson, was intended to highlight issues of surveillance and public space and the status of the square itself. Phillipson is the only British artist under consideration. If her sculpture, complete with a cherry and a large fly sitting on top, gets the go-ahead visitors to the square will be able to download a link offering them a livestream of the area from the drone's point of view.
She said: "I was born in London and I've spent a lot of time in Trafalgar Square doing everything from going to political protests, watching screenings, visiting the galleries or just getting from A to B."
The National Gallery will show models of all five from today until March 26 with two of them due to be chosen to sit on the plinth in 2018 and 2020.
They will follow David Shrigley's giant thumbs-up which will occupy the space until next March.
Via: FT
Michael Andrews: Earth Air Water, exhibition review: An amazingly accurate and subtle painter
Famous in the Fifties and Sixties for scenes of late-night drinking parties Michael Andrews summoned up imagery from lively and exciting surfaces. Andrews works were dreamy and a little weird, like visions: faces, furniture, landscape, decorations, a drunken mood and the London glamour scene. All this but with richly elusive literary associations, too, as if his model of painting was that it should also be a bit like a book.
Michael Andrews never gained the acclaim of fellow artist-bohemians Freud and Bacon but this powerful show gives the painter the attention he deserves.
Unfortunately, a painting called The Deer Park, in the Tate's permanent collection couldn't be borrowed for this large, dense, immensely rewarding survey at Gagosian. But a painting from the same period depicting life in the Colony Room makes up for the loss. This was a Soho drinking club where Francis Bacon and other artist-bohemians regularly gathered.
He painted slowly, and it was assumed that he was headed for some great public international acclaim, but it never happened.
Michael Andrews: Earth Air Water is at the Gagosian Gallery, W1 from Friday until March 25; gagosian.com
Via: Evening Standard
Egypt's Islamic art museum reopens three years after car bomb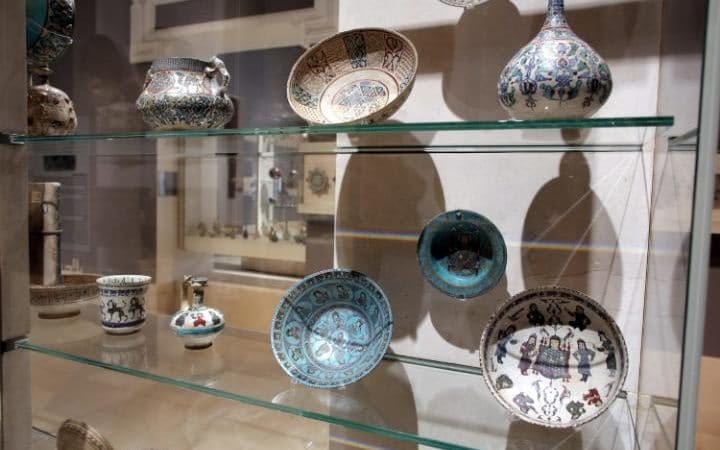 Egypt's Museum of Islamic Art will reopen today three years after it was badly damaged by a car bomb that blew up outside a nearby police headquarters. Home to one of the world's most important collections of Muslim art, the museum has been closed since January 2014 when the explosion ripped into the building.
The blast damaged 179 artifacts but the museum said its experts had been able to repair all but ten of them. The restored objects will go back on display with special gold labels. Car bomb s police headquarters in Cairo
Some of the items unable to be pieced back together were several glass medieval lamps from Cairo mosques which were shattered in the blast.
The Egyptian government hailed the museum's reopening as sign of stability even though the country is regularly wracked by violence and attacks from extremists.
"The inauguration of the Museum of Islamic Art embodies Egypt's victory against terrorism, its capability and willingness to repair what terrorism has damaged, and to stand against terrorist attempts to destroy its heritage," said Khaled El-Enany, the minister of antiquities.
Abdel Fattah el-Sisi, the Egyptian president, officially opened the building on Wednesday in a ceremony that was closed to the public and to the media.
Via: Telegraph