David Lynch
Art on This Day

The American director, screenwriter, producer, painter, musician, and photographer

David Lynch

was born on this day in 1946. Known for his surrealist films, he has developed a unique cinematic style. The surreal and, in many cases, violent elements contained within his films have been known to "disturb, offend or mystify" audiences. He studied painting at the

Pennsylvania Academy of Fine Arts

in Philadelphia, where he first made the transition to producing short films.
In 1967, he said he saw plants start to stir in his painting and heard the sound of a wind from his canvas. "Oh, a moving painting," he remembers saying out loud. Lynch's drive to make a "moving painting" resulted in "Six Men Getting Sick," a multimedia installation for which he won the first prize in the Pennsylvania Academy's experimental painting competition that year; the work was a painting, an animation, and a kinetic sculpture.

Six Men Getting Sick, 4 Stills, 1967, David Lynch
While the dark visual sensibility of his film work — "Eraserhead" (1977), "

The Elephant Man" (1980)

, "

Blue Velvet" (1986),

"

Wild at Heart" (1990

), "

Mulholland Drive"

(2001), and his TV series "

Twin Peaks" (1990-91)

— has permeated the public consciousness and widely influenced other filmmakers, writers and artists (including

Cindy Sherman

and

Gregory Crewdson

), his own visual art is almost unknown.
Lynch first trained as a painter, and although he is now better known as a filmmaker, he has continued to create macabre canvases and assemblages, influenced by the painter

Francis Bacon

throughout his career.

Boy Lights Fire, 2010 , Mixed media on cardboard, 72 x 108 in. Daivd Lynch - Photo courtesy of the artist.
He has stated that "all my paintings are organic, violent comedies. They have to be violently done and primitive and crude, and to achieve that I try to let nature paint more than I paint." Many of his works are very dark in colour, and Lynch has said this is because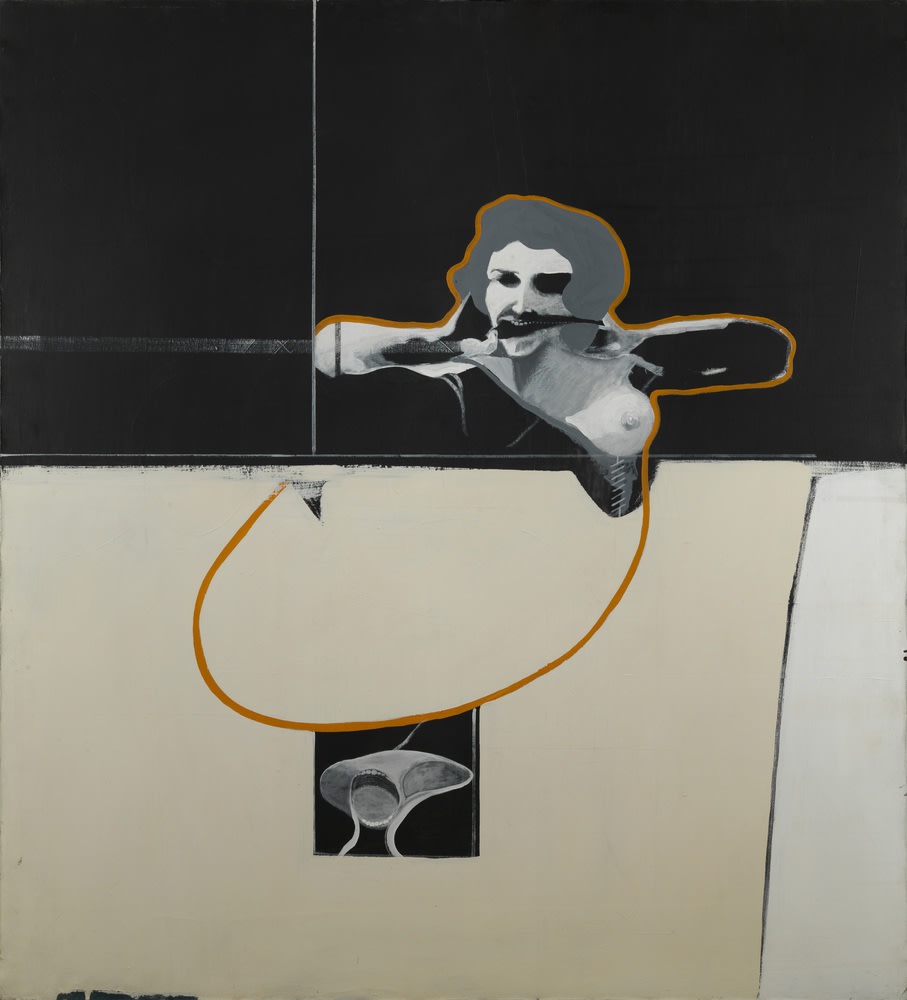 Woman with Screaming Head, 1968 by David Lynch, Acrylic on canvas, Collection of Rodger LaPelle and Christine McGinnis, Philadelphia, PA.
"I wouldn't know what to do with [colour]. Colour to me is too real. It's limiting. It doesn't allow too much of a dream. The more you throw black into a colour, the more dreamy it gets ... Black has depth. It's like a little egress; you can go into it, and because it keeps on continuing to be dark, the mind kicks in, and a lot of things that are going on in there become manifest. And you start seeing what you're afraid of. You start seeing what you love, and it becomes like a dream."
Isabella Rossellini

, who starred in "Blue Velvet" and was romantically linked to Lynch in the late 1980s, brought his art to the attention of the art dealer

Leo Castelli,

who gave him a New York gallery exhibition in 1989.
In 2007, the

Fondation Cartier in Paris

organized his first comprehensive exhibition, which traveled to Milan, Moscow and Copenhagen. Also, he was given a retrospective at his alma mater in 2014. Lynch currently lives and works in Los Angeles, CA.