Yayoi Kusama
Art on This Day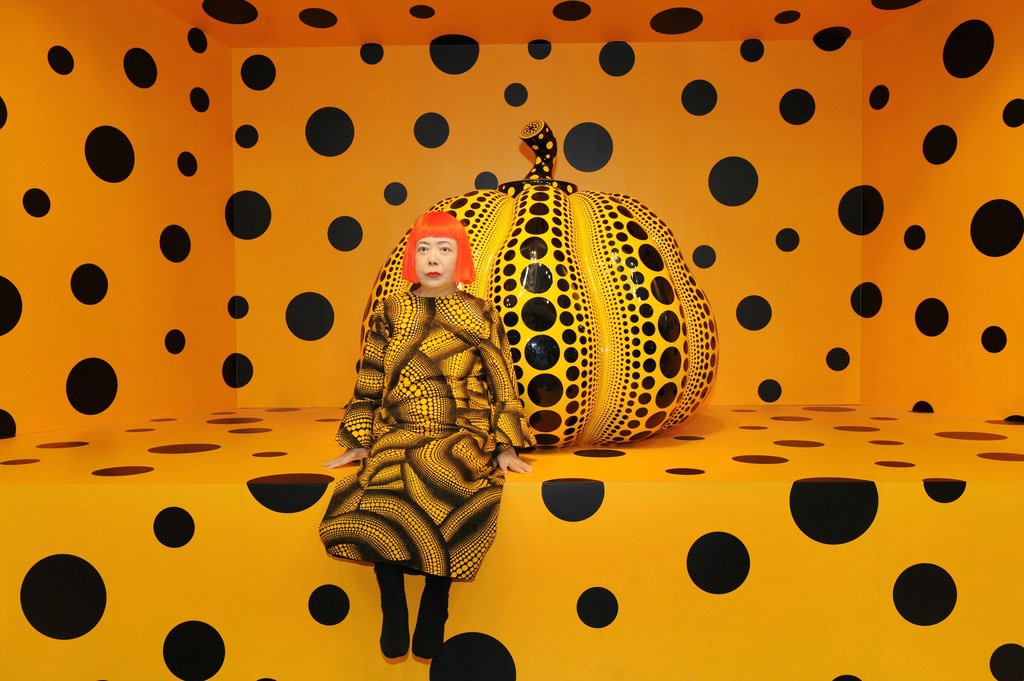 Yayoi Kusama, Kusama with Pumpkin, 2010. Photo courtesy of Louisiana Museum of Modern Art
Today marks 88th birthday of

Yayoi Kusama

, a Japanese artist and writer celebrated worldwide for her ubiquitous, captivating works of painting, sculpture and performance, as well as environmental installations . Kusama has always had ambitions of becoming a painter; she reached to brushes and painted vigorously since the early age of 10. Her inks and canvases were however soon taken away from her by her mother, from whom the young artist also heard that she would soon be to marry a wealthy man and become a housewife; faced with the family's rejection of her artistic develpment, Kusama set on a journey to pursue her creative predispositions away from home, taking her to Tokyo, France, Seattle and eventually New York, following Georgia O'Keefe's persuasive letters. Having arrived in the city with a suitcase filled with paintings, the artist felt destined to conquer the city with her passion for the arts and "mountains of creative energy stored inside" herself.
Yayoi Kusama next to the Infinity Net painting in her studio in New York, 1961. Photo courtesy Ota Fine Arts, Tokyo/Singapore, Victoria Miro Gallery, London, David Zwirner, New York
A thought-through, persistent and productive ideology behind the artist's way of working is evident throughout her artistic career; her notably practical management of time and space seems to have a large role in her work since the early New York years, where she devoted herself to long hours of painting every day. It was also then that she begun working on her immersive, sometimes to 33-feet-long "Infinity Nets"; immersive compositions resembling hallucinations marked the artist's first steps towards establishing herself in the practice of environmental art. Quickly emerging as a leader in the avant-garde movement, she worked alongside Georgia O'Keeffe and Donald Judd as some of her closest friends. Throughout the 1960s, she experimented with room-sized installations, with "Mirror/Infinity" rooms recognised and cherished worldwide to this day; most recently shown in London as part of her Sculptures, Paintings & Mirror Rooms exhibition at Victoria Miro, and currently at the

Hirshhorn Museum and Sculpture Garden

, on show until 14 May.
Dots have been a prevalent subject of much of her art since graduating from Kyoto Municipal School of Arts and Crafts, where she took up

Nihonga

painting; as her creative development progressed, the dots moved from her paintings to people and interiors. Kusama seems to take a step ahead from other perspective-focused art by creating illusions that envelop viewers and strip them from the impression of control over their experience; in her

Obliteration Room

at Tate Modern (2012), she experimented with her usual approach by turning the passive viewer into an active contributor to the installation by instructing visitors to cover the laboratory-like white surface of a furnished room with colourful dot-shaped stickers. The resulting artwork reflects the artist's vision of the universe as a unity, or, as she puts it, that "accumulation is how the stars and the earth don't exist alone", with dots and other patterns acting as a language to communicate the idea of infinite connectivity.

Yayoi Kusama, Untitled (Moon), 1952, gouache and pastel on paper
Painting extensively on a daily basis eventualy lead to exhaustion, starting to impact Kusama's mental health and acting as a catalyst for the artist's return to Japan. Remaining unknown in Japan and staying away from the spotlight in the rest of the world until a number of major retrospectives in late 1980s, the artist continued working in her studio located in the suburbs of Tokyo, where she still practices her art from 9am until 6pm daily. Yayoi Kusama's participation in the Japanese pavilion at the

Venice Biennale

(1993), as well as numerous other biennales, shows and field installations, gained widespread appreciation and a unique brand-status comparable to that of Jeff Koons or Damien Hirst. Through her experimentation with Surrealism and Minimalism, pioneering work contributing to the onset of Pop Art as well as often politically-charged performance and environmental art were some of many ways in which Kusama earned her reputation as one of the critical influencers of 20th century art.