Elaine de Kooning
Art on This Day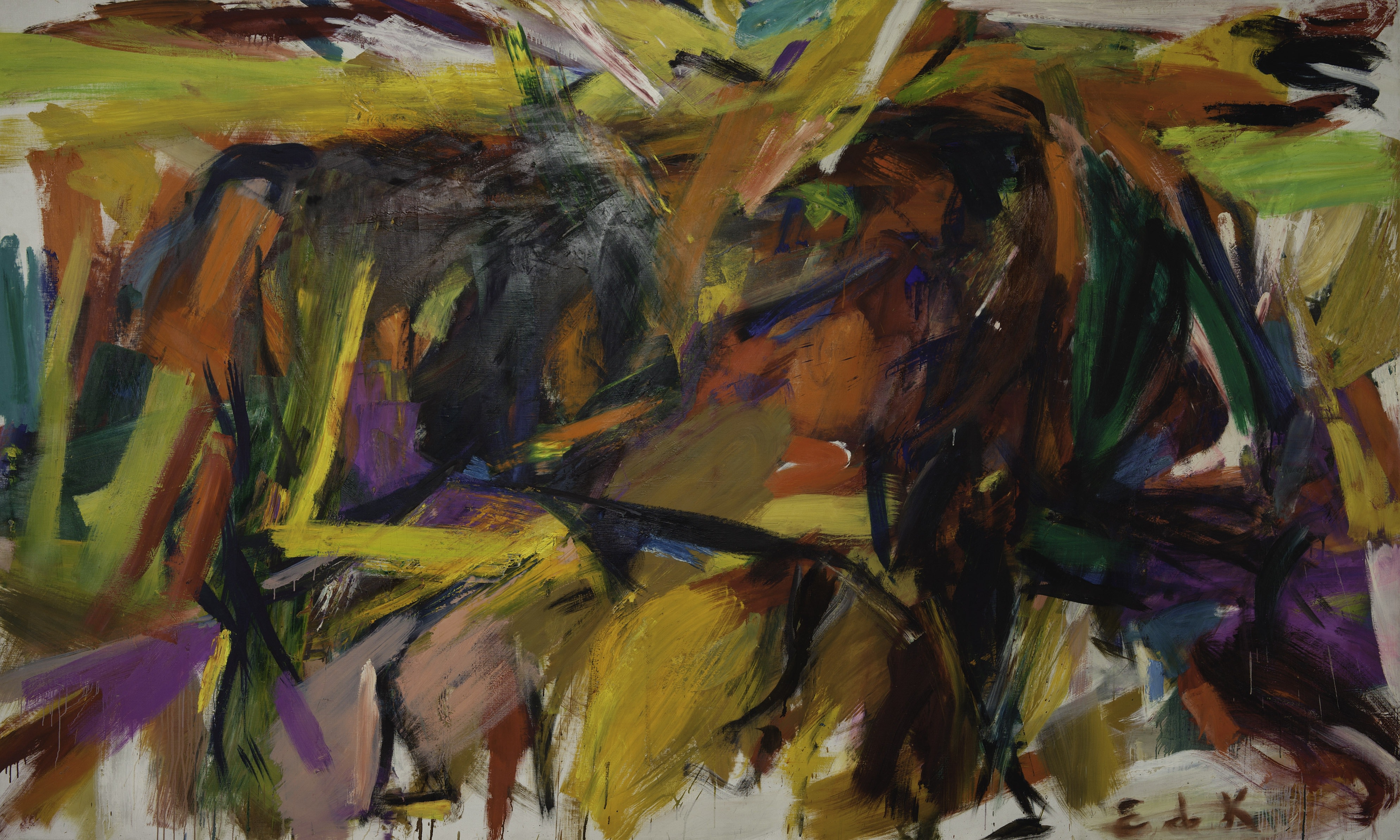 Elaine de Kooning, Bullfight, 1959, oil on canvas.
Elaine de Kooning who died on this day in 1989, was an Abstract Expressionist and Figurative Expressionist painter in the post-World War II era.
Elaine de Kooning was a talented artist in her own right but being the wife of the famous painter Willem de Kooning, she did not receive real recognition for her own achievement until a few years before she died.
Elaine admired Willem's artwork and after meeting him through her teacher, in 1938 he began to instruct her in drawing and painting. Although he was known for his harsh criticism of her work and to even destroyed many of her drawings the relationship developed and they married on 9th December 1943. Sadly
Elaine and Willem both struggled with alcoholism, which eventually led to their separation in 1957.
As an accomplished landscape and portrait artist, Elaine remained active in the Abstract Expressionist movement of the early twentieth century. She was a member of the Eighth Street Club (the Club) in New York City. The Club functioned as a space to discuss ideas.
Elaine de Kooning made both abstract and figurative paintings and drawings of still life, cityscapes, and portraits.
Her earlier work comprised watercolors and still lifes, including fifty watercolor sketches inspired by a statue in the Luxembourg Gardens in Paris. Later in her career, her work fused abstraction with mythology, primitive imagery, and realism. Her gestural style of portraiture is often noted, although her work was mostly figurative and representational, and rarely purely abstract. Her work presents a combination between painting and drawing, surface and contour, stroke and line, color and light, transparency and opacity.
A large portion of Elaine de Kooning's work was in portraiture. Her subjects were often fellow artists—usually men—including poets Frank O'Hara and Allen Ginsberg, art critic Harold Rosenberg, choreographer Merce Cunningham, and painters Fairfield Porter and her husband, Willem de Kooning. Although she worked in a gestural Abstract Expressionist mode, she never abandoned working with the figure ensuring the person's likeness.
Women were often marginalized in the Abstract Expressionist movement, functioning as objects and accessories to confirm the masculinity of their male counterparts. For that reason, she chose to sign her artworks with her initials rather than her full name, to avoid her paintings being labeled as feminine in a traditionally masculine movement, and to not be confused with her husband Willem de Kooning.
Elaine de Kooning was an important writer and teacher on art and was the first American artist in the 1950s to take a role of the artists' critic. Although Elaine was a successful writer, she considered herself a "painter by nature." Elaine de kooning's art and writing were all devoted to art and humanity.
Over the course of her life, she held teaching posts at many institutions of higher education
Her works are in the collections of the Museum of Modern Art and the Solomon R. Guggenheim Museum in New York.