Frank Gehry
Art on This Day
The Canadian- born American architect Frank Gehry was born on this day in 1929.
Gehry is among the most influential architects of the 20th century, and is known for his use of bold, postmodern shapes and unusual fabrications. Gehry's most famous designs include the Guggenheim Museum in Bilbao, Spain, the Walt Disney Concert Hall in Lost Angeles and the Louis Vuitton Foundation in Paris. A number of his works, including his private residence in Los-Angeles, where he has been living since the 60's, have become world-renowned attractions.
Gehry is known for his choice of unusual materials as well as his architectural philosophy. His selection of materials such as corrugated metal, lends some of Gehry's designs an unfinished or even crude aesthetic. His consistent style has made Gehry one of the most distinctive and easily recognizable contemporary designers.
His earliest educational influences are rooted in modernism, but Gehry's work has managed to escape modernist stylistic tropes while still remaining interested in some of its underlying aspects. He is sometimes associated with what is known as the "Los Angeles School" of architecture and his work is consistent with the California "funk" art movement, which in the 1960s and early 1970s featured the use of inexpensive found objects and non-traditional media such as clay to make serious art. However, a retrospective exhibit at New York's Whitney Museum in 1988 revealed that he is also a sophisticated classical artist, who knows European art history and contemporary sculpture and painting.
In October 2014, the first major European exhibition of Gehry's work debuted at the Centre Pompidou in Paris, France. Other museums and galleries that have exhibited Gehry's work include the Leo Castelli Gallery, the Walker Art Center, the LACMA and the Whitney Museum, the Museum of Modern Art, the Gagosian Gallery, the Solomon R. Guggenheim Museum, the Guggenheim Bilbao, and the Milan Triennale. In 2015, LACMA held a major retrospective of Gehry's work.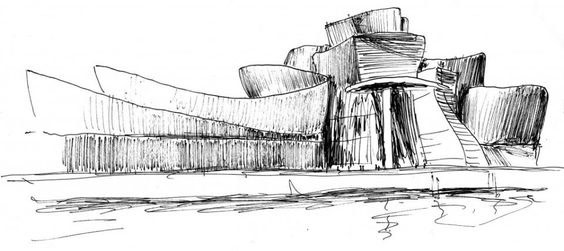 Frank Gehry Sketch of Guggenheim Museum in Bilbao, Spain