Keith Haring
Art on This Day
Keith Haring at Pop Shop, 1986. Photograph by Charles Dolfi-Michel
Today marks the 27th anniversary of

Keith Haring

's death, who rose to popularity with his significant contribution to pop and graffiti art, and his powerful efforts as a social acitivist before his unfotunate passing caused by AIDS. His artistic predispositions were evident since early years as he continuously illustrated characters and storylines, inspired by his father's cartoons. Despite later enrolling at a commercial art school, he sensed a "separation between cartooning and being an 'artist'" and eventually left the school to hitchhike across the country and become involved with the Pittsburgh Arts and Crafts Center, who also held his first solo show. That time also marked the artist's discovery of works by the likes of Jackson Pollock, Pierre Alechinsky and Christo, and the onset of his characteristic style, with Haring beginning to experiment with small, interconnected abstract shapes.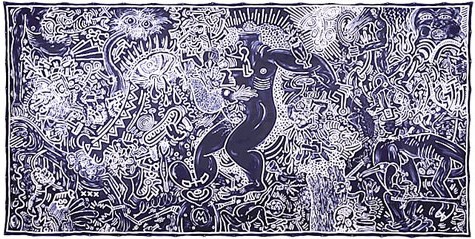 Keith Haring, Untitled, 1986, enamel paint and acrylic on canvas tarp
Keith Haring made his way to New York in late 1970s, where he took up studies at the

School of Visual Arts

and came to recognition of the public and fellow artists through his illustrative grafitti murals he covered urban spaces with, and which, to artist's surprise, would later be stolen within hours of their creation as Haring's popularity escalated. One of the most iconic murals, Crack is Wack (1986) still surprises drivers passing through Manhattan's FDR to this day.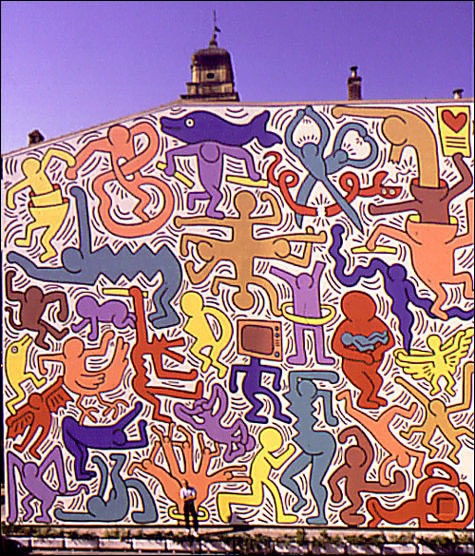 Keith Haring, Pisa Mural, 1989
The artist shortly became immersed in the vibrant movement taking over New York at the time, with Kenny Scharf, Jean-Michel Basquiat, Futura 2000 and other contemporaries amongst his closest acquaintances. His fruitful years in New York involved frequent collaborations with other artists and Haring experimenting with a wide range of techniques and disciplines, spanning across painting, performance art, sculpture and collage.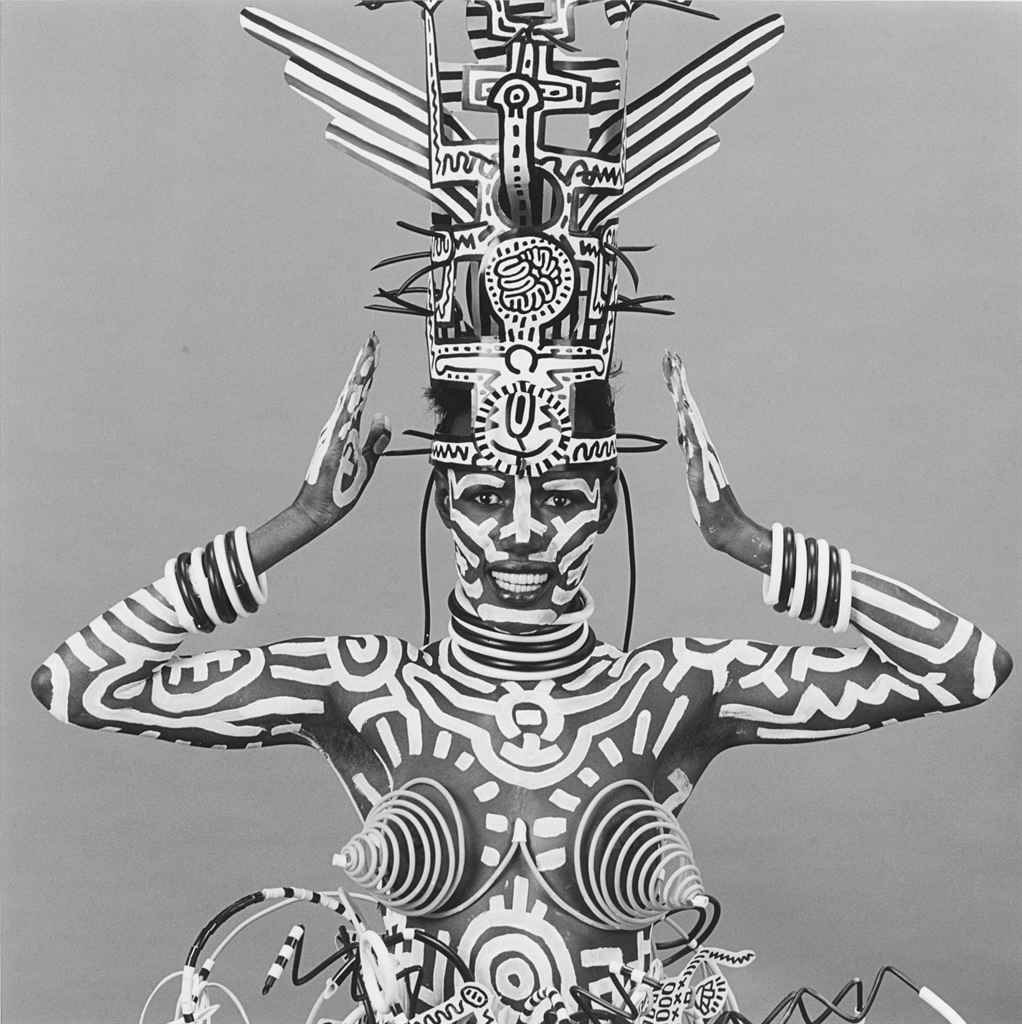 Robert Mapplethorpe, Grace Jones (Painted by Keith Haring), 1984, gelatin silver print
Themes of birth and death, sexuality and world peace made consistent appearances in Haring's work throughout his life. His works, often portraying concepts of homosexuality and AIDS in threatening, negative contexts frequently featuring skeletons and other nightmarish figures, were amongst the most important pieces of art commenting on the stigma around the topic and participating in detaching it from stereotypes and subcultures. The artist also aimed to maintain his art's accessibility to anyone; the most direct demonstration of such approach was his 1986 installation Pop Shop, selling novelty items with imagery by himself and other contemporary artists on Soho's Lafayette Street. When enquired about values he was determined to convey throughout his brief but eventful artistic career, he pointed to incorporating art into everyday life in "less as an egotistical exercise and more natural". Currently represented by the

Keith Haring Foundation

, an

exhibition

of 110 works by the artist, with many of monumental dimensions, goes on show on 20 February at Milan's Palazzo Reale, followed by

Keith Haring. Posters

opening at Museum fur Kunst und Gewerbe in Hamburg in June.