Marino Marini
Art on This Day

The artist with one of his sculptures
Marino Marini was born on this day in 1901, in Pistoia, Italy. He attended the

Accademia di Belle Arti

in Florence in 1917. Whilst never fully abandoning painting, from about 1922 Marini primarily devoted his artistic energies to his sculpture. He succeeded Martini as professor at the Scuolo d'Arte di Villa Reale in Monza, near Milan, in 1929, and held this position until 1940 when he accepted a professorship in sculpture at the Accademia di Belle Arti di Brera in Milan.

During this period, Marini travelled frequently to Paris, where he associated with fellow artists

Massimo Campigli

,

Giorgio Chirico

and

Alberto Magnelli

, and also lived for a time in Switzerland, befriending

Alberto Giacometti

,

Germaine Richier

and

Fritz Wotruba

. Whilst in exile in Switzerland from 1943-1946, he exhibited in Basel, Bern and Zurich. He then resettled in Milan permanently up until this death in 1980.

Marini developed several themes in sculpture: equestrian, Pomonas (nudes), and circus figures, drawing on traditional Etruscan and Northern European sculpture. He wanted to develop mythical images by interpreting classical themes in light of modern concerns of techniques; his iconic horse and rider subjects thus evolved over the years in response to the changing context of the modern world. Whilst beginning in a slender and poised format in 1936, after World War II, in the late 1940s, the horse is planted, immobile, the neck extended, ears pinned back, mouth open. An example of this is his 'Angel of the City' (below), of the

Peggy Guggenheim Collection

, Venice. In the artist's final work, the rider is unseated and the horse falls to the ground, paralleling Marini's growing despair for the future of the world.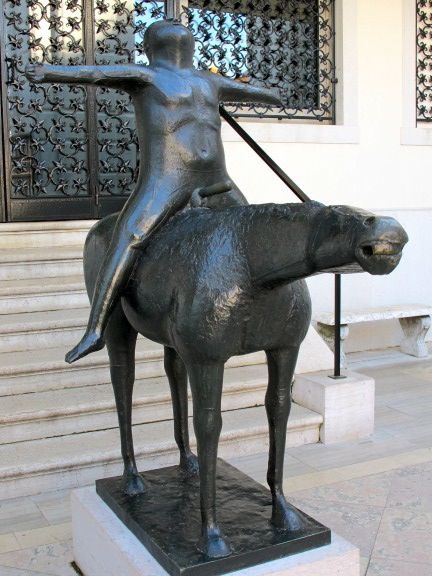 Marino Marini, The Angel of the City, 1948, cast 1950(?), bronze
Marini Participated in the Twentieth-Century Italian Art show at

The Museum of Modern Art

, New York, in 1944. His work was also exhibited at the Buchholz Gallery in New York in 1950, at which time Marini met

Jean Arp

,

Max Beckmann

,

Alexander Calder

,

Lyonel Feininger

and

Jacques Lipschitz

, and in a solo exhibition at The Hanover Gallery in London, where he met

Henry Moore

. He was awarded the Grand Prize for Sculpture at the

Venice Biennale

in 1952 and the Feltrinelli Prize at the

Accademia del Lincei

in Rome, 1954. One of his monumental sculptures was installed at The Hague in 1959.
There is a

museum

dedicated to his work in Florence, in the former church of San Pancrazio, and his sculpture is also featured in the

Tate Collection

, amongst others.