Robert Morris
Art on This Day

Robert Morris in costume for War in collaboration with Robert Huot at Judson Memorial Church, New
York, 1963
Today marks the 85th birthday of

Robert Morris

, an American conceptual artist and one of the vital figures in establishing

Minimalism

's crucial role in post-war American art. Considered as one of the early proponents of the movement, the scope of his interests and disciplines he experimented with was far from minimal; as a writer, sculptor and major contributor to Land, Process and performance art, his polymorphous approach was also reflected in his studies, with the artist dedicating his years in academia to engineering, philosophy, art history and sculpture.
Intrigued by the work of

Abstract Expressionists

such as Jackson Pollock and the idea of an artwork acting as a documentation of the creative process, dance and choreography sparked Morris's interest at the onset of his artistic career; he furthered it during the years spent with his choreographer wife Simone Forti in San Francisco and later staged a range of performances in New York. It was also in New York's short-lived but highly influential Green Gallery that Robert Morris held his first exhibition, showcasing a series of seven geometric plywood sculptures painted in grey, which initially served as props for a dance performance and reflected Morris's landmark approach merging artworks with their immediate environment. The artist continued to explore this throughout the years by crafting and pairing objects in arrangements that gained a situational meaning, in which "one is aware of one's own body at the same time that one is aware of the piece", as described by the artist himself. The sculptures are considered as some of the most fundamental pieces contributing to the onset of Minimalism, complemented by a series of essays featured in

Artforum

in 1960s, which formed the foundation of theoretical writing on the movement.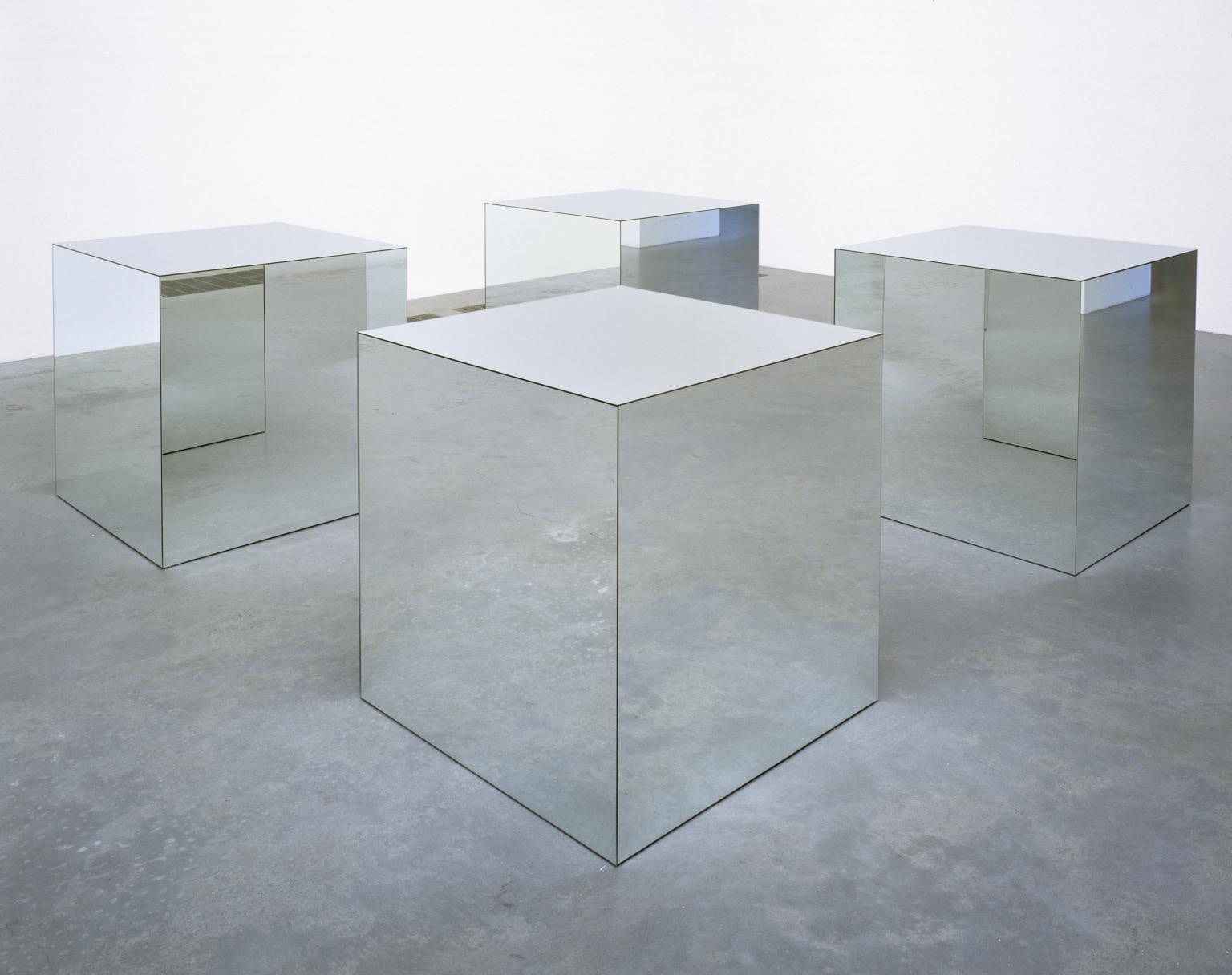 Robert Morris, Untitled, 1965, reconstructed 1971, mirror glass and wood
One of his most recognised bodies of work involved heavy felt hung on the wall in a drooping shape, acting as a substitute to the traditional display of paintings and bringing a new dimension to the white cube. Morris has been recognised for his frequent use of unconventional materials in his works, granting "results not projected in advance" and simultaneously inviting the viewer to inspect the process as carefully as the final state of an artwork.

Whitney Museum of American Art

,

Museum of Contemporary Art

in Chicago,

Newport Harbor Art Museum

are among many major museums that have hosted solo shows by the artist, with a prominent retrospective held at the

Solomon R. Guggenheim Museum

in 1994, later travelling to

Deichtorhallen

in Hamburg and the

Musée National d'Art Moderne

in Paris. The artist is now represented by Sprüth Magers, Sonnabend Gallery and Leo Castelli Gallery, with the latter currently preparing for an exhibition of his works, entitled seeing is not saying that.