Art in Print
David Hockney: the revolutionary prints that won't be at the Tate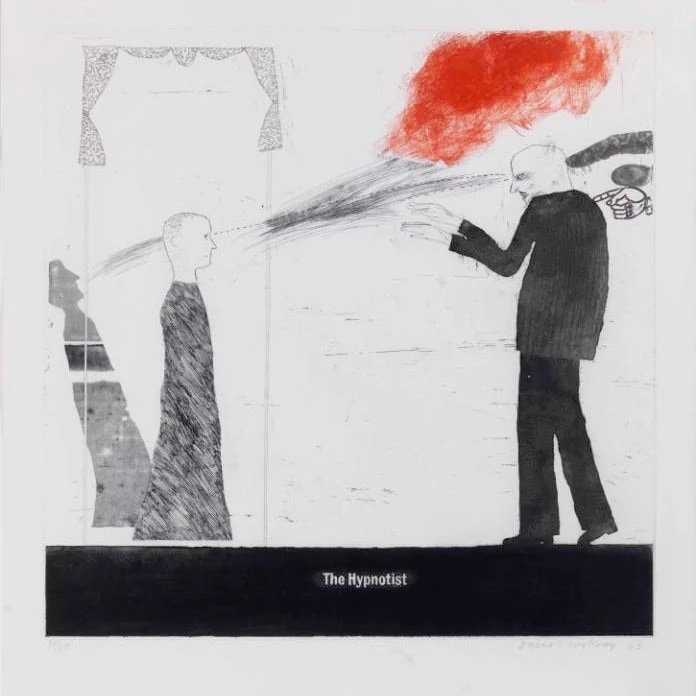 A major retrospective exhibition for David Hockney at Tate Britain next month promises to cover "the full scope of his artistic practice" – drawings, paintings, photography, and video. But, much to the dismay of print enthusiasts, this medium, which he has always taken extremely seriously as an art form, is to be excluded.
During his teens, Hockney produced the occasional lithograph, but really engaged with print making through etching when he was a student at the Royal College of Art from 1959 to 1962.
He was so poor, the story goes, that he could not afford painting materials. But when he discovered that materials were free in the print department, he made himself at home there, producing etchings as distinctive and brilliant as his paintings and drawings.
However, while the Tate will not cover this chapter of his work, a commercial gallery will.
Assembled by print dealer Lyndsey Ingram, the exhibition opens at Hazlitt Holland-Hibbert in St James's on February 2, just a few days before the Tate opening. It will be the first time that examples of every print he made between 1961 and his move to Los Angeles in 1964 will have been shown together.
If print prices follow painting prices, then Hockney print buyers be prepared. The market has seen a resurgence of interest in all periods of his painting. The auction record is now $11.7 million set last year for a 12-foot wooded landscape, but that has been far exceeded privately with a price of $25 million for an earlier work.

David Hockney: the complete early etchings 1961-64 is on from February 3 until March 20 at Hazlitt Holland-Hibbert
Via The Telegraph
Tate Modern to reunite Giacometti's plaster Women of Venice
A group of six plaster sculptures made by Alberto Giacometti for the Venice Biennale at the height of his fame are to be brought together for the first time since they were made in 1956.
Tate Modern's director, Frances Morris, who is curating the show, said being able to show the six Women of Venice plasters together for the first time since they were made was a coup for the gallery. The plaster originals were the most important to the artist, taking pride of place in the French Pavilion when Giacometti represented his adopted country at Venice in 1956. The plasters are owned by the Alberto and Annette Giacometti Foundation in Paris, which is currently restoring the plasters to their original state.
"This is one of the most ambitious restoration projects that the foundation has undertaken and it is very exciting that they wish to do it for Tate," said Morris.
The woman in all of the sculptures was Giacometti's wife, Annette, one of his most important models. Tate said they represent a culmination of Giacometti's lifelong experimentation to depict the unalloyed reality of the human form. Giacometti is best known for his bronze figurative sculptures, which attract some of the highest auction prices in the industry: a Walking Man broke records when it sold for £65m in 2010. But the Tate show, with more than 250 works, aims to show that there was far more to Giacometti than bronzes, and that he had a far wider interest in materials and textures, particularly plaster and clay.
Alberto Giacometti is at Tate Modern from 10 May to 10 September.
Via The Guardian
TeamLab: the Tokyo 'ultra-technologists' creating totally immersive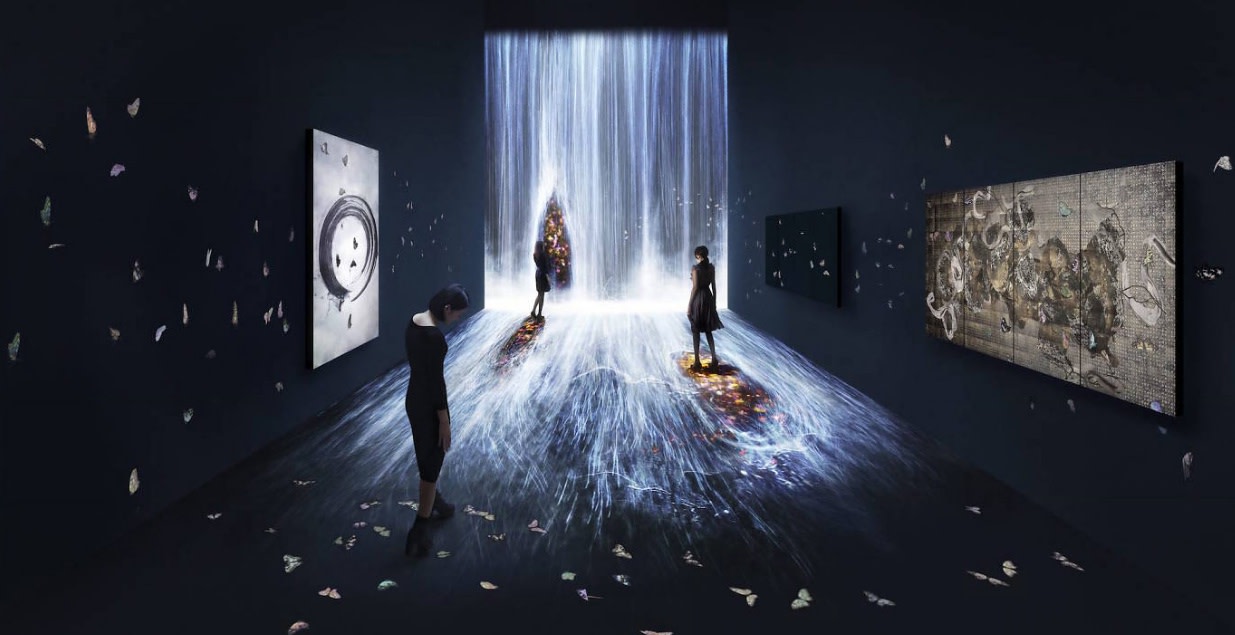 This Tokyo collective of 'ultra-technologists' create awe-inspiring digital installations that walk a tightrope between art, technology and design. They are programmers, engineers, animators, mathematicians, web designers and artists. Their aim is to mash art and technology up together and produce a different kind of goo, creating installations out of light, projections and interactive technology, taking inspiration from pre-modern Japanese art. The point of their show is to get you completely lost in the work.
In one work, a waterfall flows down the wall on to the floor, parting around your feet. In another, they've mapped how hundreds of thousands of water particles interact and re-visualised themas ghostly undulations surrounding you in an otherwise pitch-black room. In one of the main pieces, flowers are projected on to you – if you move, the flowers crumble and die, but if you stay still, more will grow.
There are no ropes around paintings or guards standing in the corners of this show. The TeamLab masterminds want to do away with the boundaries between you and the art, so that you – the viewer – become an integral, vital part of the art.
TeamLab's 'Transcending Boundaries' is at Pace Gallery from Wednesday January 25 until Saturday March 11. Entrance is free but tickets need to be booked in advance.
Via Time Out
Stunning images show devastating effect of global warming in Greenland

These huge photographs show the effect of global warming on one of the earth's most inaccessible places - Greenland's vast ice sheet.
Photographer Timo Lieber flew over the 695,000 square mile expanse to capture the blue melt lakes and rivers that mark the extent of the melting that threatens to change it forever.
His pictures, which measure 1.7 metres square, are being shown for the first time in an exhibition called THAW at Bonhams in New Bond Street. They are the result of a collaboration with leading scientists from the Scott Polar Research Institute.
The pictures are for sale, with some of the money raised going back to the Institute to help fund its research.
THAW is on from February 20 to 23.
Via: Evening Standard