Dame Paula Rego
Art on This Day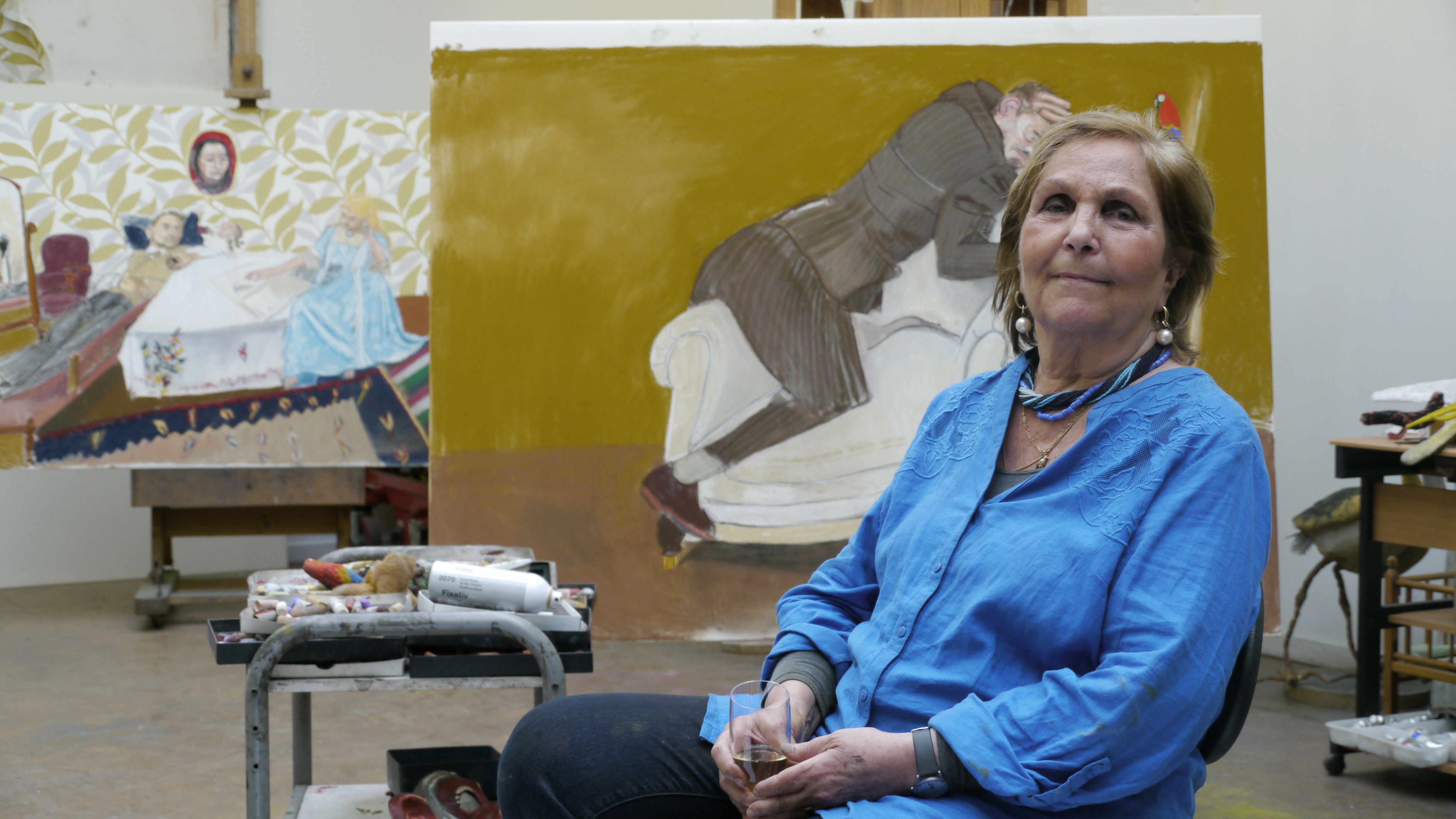 Dame Paula Rego was born on this day in 1935, in Lisbon, Portugal. She is a visual artist who is particularly known for her paintings and prints based on storybooks. Rego's style has evolved from abstract towards representational, and she has favoured pastels over oils for much of her career. Her work often reflects feminism, coloured by folk-themes from her native Portugal.
She studied at the Slade School of Fine Art and was an exhibiting member of the London Group, along with David Hockney and Frank Auerbach. She was the first artist-in-residence at the National Gallery in London.
Working from literature, myths, fairy tales, cartoons and religious texts, Rego creates narrative works imbued with mystery. She is drawn to subjects that are well known and well resolved, and takes her imagery from sources as varied as Peter Pan and Mary Magdalene.
She is a prolific painter and printmaker, and in earlier years also produced collage work. Her well-known depictions of folk tales and images of young girls, made largely since 1990, bring together methods of painting and printmaking that emphasise strong, clearly drawn forms, in contrast to the looser style of her earlier paintings. In her earliest works, such as Always at Your Excellency's Service, painted in 1961, Rego was strongly influenced by Surrealism, and particularly the work of Joan Miró. These paintings almost verge on abstraction; however, as exemplified by Salazar Vomiting the Homeland, painted in 1960, when Portugal's right-wing dictator Salazar was in power, even when her work veered toward abstraction, a strong narrative element remains in place.
There are two principal reasons why Rego adopted a semi-abstract style in the 1960s. First, abstraction dominated in avant-garde artistic circles at the time, which had set figurative art on the defensive. But she was also reacting against her training at the Slade School of Art, where a very strong emphasis had been placed on anatomical figure drawing.
A notable change in Rego's style emerged in 1990, following her appointment as the first Associate Artist of the National Gallery in London, under what was effectively an artist-in-residence scheme. The remit of the Associate Artist is to "make new work that in some way connects to the National Gallery Collection." The National Gallery is overwhelmingly an Old Masters collection and she seems to have been pulled back towards a much clearer, or tighter, linear style reminiscent of the highly-wrought drawing technique that she was taught at the Slade.
She began using pastels as a medium in the early 90s. She continues to use pastels to this day, almost to the exclusion of oil paint.
Rego's art work can be seen in many public and private institutions around the world. The artist has 43 works in the collection of the British Council, ten works in the collection of the Arts Council England, and 46 works at the Tate Gallery, London.
She is currently represented by Marlborough Fine Art. She lives and works in London.