Robert Motherwell
Art on This Day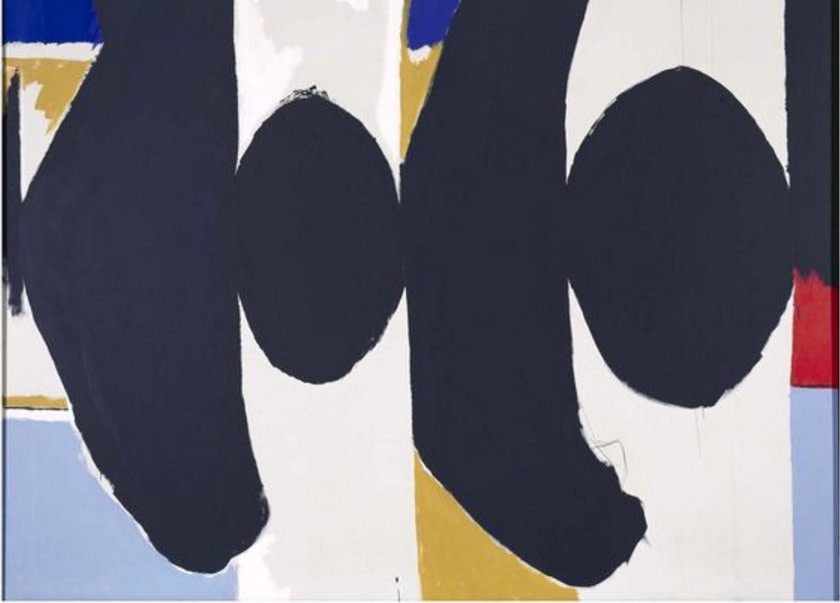 Robert Motherwell was born on this day in 1915. The American painter, printmaker and editor was one of the youngest of the New York School, a phrase coined, which also included Philip Guston, Willem de Kooning, Jackson Pollock, and Mark Rothko.
Motherwell was reared largely on the Pacific Coast and spent most of his school years in California. There he developed a love for the broad spaces and bright colours that later emerged as essential characteristics of his abstract paintings. The ultramarine blue of the sky and ochre yellow of Californian hills can be claimed to be influences on his work and themes of mortality can likewise be traced to his frail health as a child.
From Motherwell's own words, the reason he went to Harvard was that he wanted to be a painter, while his father urged him to pursue a more secure career. In 1940, Motherwell moved to New York to study at Columbia University, where he was encouraged by Meyer Schapiro to devote himself to painting rather than scholarship.
The time that Motherwell spent with the Surrealists proved to be influential to his artistic process, as it was during this time that he decided to make painting his primary focus. During this time Motherwell was also introduced to the concept of "automatic" drawings. The Surrealists often deployed the process of automatism, or abstract "automatic" doodling to tap into their unconscious.
In the early 1940s, Robert Motherwell played a significant role in laying the foundations for the new movement of Abstract Expressionism (or the New York School): "Matta wanted to start a revolution, a movement, within Surrealism. He asked me to find some other American artists that would help start a new movement … I went around explaining the theory of automatism to everybody because the only way that you could have a movement was that it had some common principle. It sort of all began that way."
In 1942 Motherwell began to exhibit his work in New York and in 1944 he had his first one-man show at Peggy Guggenheim's "Art of This Century" gallery; that same year the MoMA was the first museum to purchase one of his works. From the mid-1940s, Motherwell became the leading spokesman for avant-garde art in America.
Motherwell exhibited widely in both America and Europe during the 1960s and was given a major retrospective exhibition in 1965 at the Museum of Modern Art; this show subsequently traveled to Amsterdam, London, Brussels, Essen, and Turin.
In 1965 Motherwell worked on another prominent series called the The "Lyric Suite", named after Alban Berg's string quartet. In 1967, Motherwell began to work on his Open series. Inspired by a chance juxtaposition of a large and small canvas, the Open paintings occupied Motherwell for nearly two decades.
Intimate and meditative, the Opens consist of limited planes of colour, broken up by minimally rendered lines in loosely rectangular configurations. As the series progressed, the works became more complex and more obviously painterly, as Motherwell worked through the possible permutations of such reduced means.
Robert Motherwell died in Provincetown, Massachusetts on July 16, 1991. On Motherwell's death, Clement Greenberg, the great champion of the New York School, left in little doubt his esteem for the artist, commenting that, "although he is underrated today, in my opinion he was one of the very best of the Abstract Expressionist painters".

When Motherwell died on July 16, 1991, he left an estate then estimated at more than $25 million and more than 1,000 works of art, not including prints.
On July 20, 1991, several hundred people attended a memorial service for Motherwell on the beach outside his Provincetown home.