Pelham Picks
An exclusive look at the most illustrious private views for the week ahead
Nnenna Okore: Ụkwa Ruo Oge Ya Ọ Daa-There's a time for everything
A new exhibition is opening this week at October Gallery by Nnenna Okore. This will be her third solo exhibition at the gallery. The exhibition is described as: "
The proverbial Igbo axiom
Ụkwa Ruo Oge Ya Ọ Daa,
references the theatrical falling of breadfruit from the mother tree. The plummet of this tropical fruit, known in Igbo as
Ukwa
, not only indicates the height of its ripening phase, it also sparks the genesis of a new trajectory - the decaying stage. Symbolically the fallen
Ukwa
represents metamorphic processes that are constantly injected into the natural cycle to establish cosmic balance and planetary order. These fascinating twists and turns bring into being new realities, seasons, chapters, formations and systems". There will be a private view on Wednesday, please RSVP at press@octobergallery.co.uk.
Private View: Wednesday, 25 October, 6-7:30pm
Stan Douglas at Victoria Miro
Victoria Miro is presenting the first in a new series of works by Stan Douglas that are triggered by the uprisings of the early 2010s, including the Arab Spring and riots across global locations including London and the artist's home town of Vancouver, these photographs focus on scenes associated with events in August 2011, when thousands of people rioted across London boroughs: in Tottenham, where protests started following the shooting by police of Mark Duggan, and Hackney Downs, where events were focused around the Pembury Estate.
Private View: Thursday, 26 October, 6-8pm
Artist Talk at Tate Modern: Wednesday, 25 October, 6:30-8pm
Superflex Shorts at Tate Modern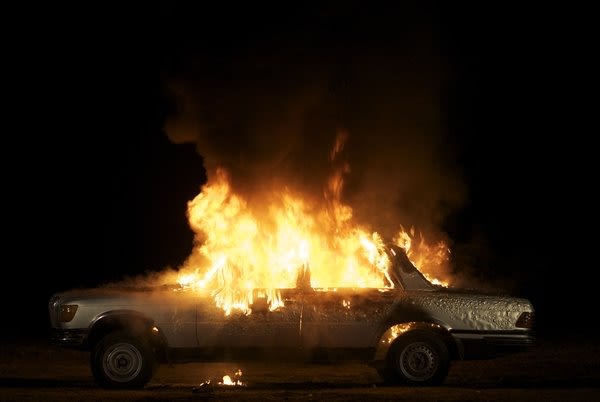 As part of October's Uniqlo Tate Late evening celebrating SUPERFLEX's 2017 Hyundai Commission for the Turbine Hall, Tate Modern will present three of the collective's short films in a free display. The films, made between 2008 and 2013, centre on modes of catharsis and release for the anxieties prompted by the quickly changing economic and political landscapes in Europe. The presentation will include the following three short films: The Burning Car, The Financial Crisis and The Working Life.
Presentation: Friday, 27 October, 6-10pm